Sao Jorge

Adamandsusie
Susie and Adam (both think they are skipper)
Thu 28 Jun 2012 12:03
26.06:12, 38:39.15N 27:13.07W
We spent a few days in Sao Jorge, a couple were due to the weather with strong south winds trapping us in the harbor and torrential rain, but we did have a couple of nice days as well so we managed to get out and see a bit of the island.
Once you're up the cliffs Sao Jorge is rolling fields and hills with a mixture of pasture and woodland, we walked from Vila de Velas to the next village and back which took us about 4 hours but took us through nice countryside and past little farms.
They had a blessing of the boats type day the next day where the fishing boats were decorated and fish and soup was served up accompanied by traditional music and dancing. Unfortunately the water outside the harbor was rough so the boats couldn't go and do the parade they were supposed to.
I had my Birthday in Velas – Adam did amazingly well to cook me a 3 course meal – the shops in Velas are not particularly extensive in their selection of food so it wasn't easy. Even though veg are growing everywhere you can't actually seem to buy any in the shops in Velas other than a very narrow selection. Although the shop did have about the biggest range of alcohol we have seen anywhere – Adam got me some blackberry liquer which is quite nice and not too sweet. They make liquers out of anything they can get their hands on in the Azores – Pineapple and Passionfruit are the main ones, but they don't stop there. . . blackberry, fig, maize, grape, some aniseed liquer that has a flowerhead in it, apparently they even make liquers flavoured with 'minerals' which I take as being 'rock flavoured'.
Tuesday the weather had all calmed down (a bit too much in fact) and we had sunshine again so we had to motor all the way to Teircera island – Teircera is only about 25 miles east of Sao Jorge, but the sail is about twice that as you have to go all the way to the south tip of Sao Jorge. We're now in Teircera and enjoying the 10 day long festival that they have every year (I will have to put the name of it on the next blog as I cannot remember it).
Tiny Velas Marina below has a very helpful manager called Jose who was happy to tell us all about the island etc – he works 8 – 8, 7 days a week all summer, think he needs an assistant. The cliffs behind are where all the noisy shearwaters live.
View down over Velas fishing port. Pico just visible in the background. The little town of Velas has a nice mix of houses and businesses with veggie fields as well.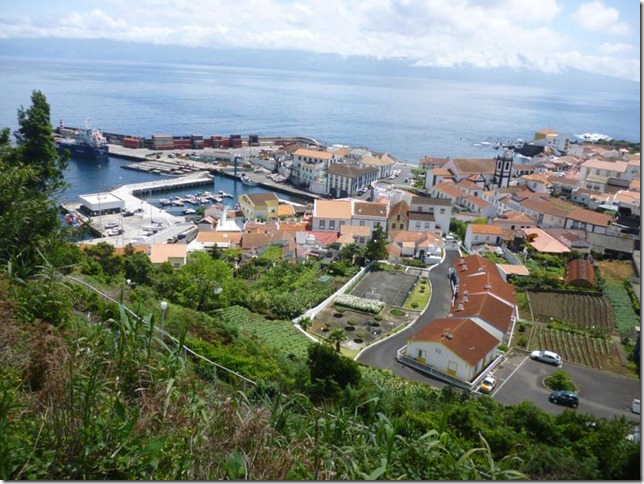 Traditional music and dancing for the boats festival day, Jose said it was the first time they had this celebration for 21 years.
View of the south end of Sao Jorge as we sailed around it – a lot of the island is cliff of varying height with the pastures and woodlands on relatively flat land at the top. As it had been raining so much the previous morning there were several waterfalls spilling off the cliffs.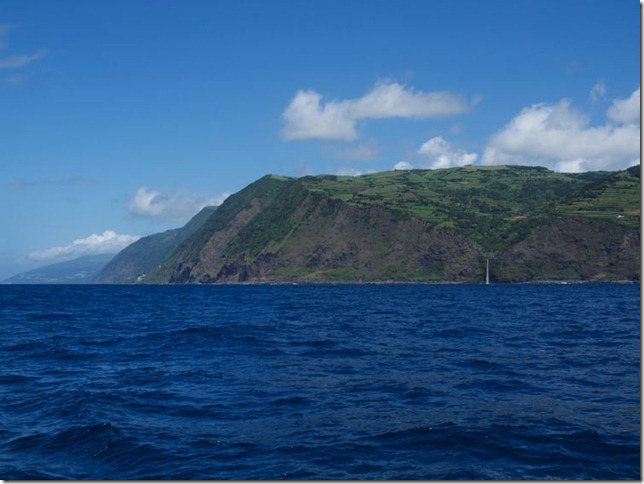 ---