Dominica back to Antigua

Adamandsusie
Susie and Adam (both think they are skipper)
Thu 15 Mar 2012 23:09
We loved our time in Dominica, but had to work our way back north so Mum could catch her flight on Wednesday, so Saturday we left Dominica in nice light winds for a change and did a hop up to the Isles of the Saintes which are just 20 miles away. We visited last year but thought it would be a nice stop off and for Mum, a complete contrast to Dominica.
The anchorages in the Saintes are now full of mooring buoys which doesn't look to attractive and means you have to pay! The bays weren't as packed as they were last year.
We spent Saturday afternoon and Sunday in the Saintes, we climbed up to the ruined fort on Isla Cabrit and up to the restored fort on Terre D'Haut . I was impressed that I managed to spot a few Iguana's in the trees on the way up.
The weather was still pretty cool (comparatively) in the Saintes so the walks were doable. We also walked over to another fishing bay and back on a new route into town (which Mum was very smug to have found). We made sure we had ice cream and crepes while we were there! - The Saintes are more like a southern French seaside town that they are like the Caribbean - being French there were speedo's on display, we passed one large bloke with an impressive stomach, stubble and a fag in his mouth pushing a wheelbarrow up the road and wearing nothing but Speedo's, I can't believe Mum wasn't quick enough with a covert camera shot.
After a couple of days there we left Monday lunchtime with the plan to sail the whole way back to Antigua in one go (approx 75 miles), the wind had calmed down but for Mum it was the first time sailing at night, at least we saw some stars and she had an interesting time trying to eat here dinner in a rocking boat - we did provide a bowl as opposed to a plate (and bowls for us too!). We were impressed as Mum also managed to disappear into her cabin and have some sleep on the way back - it isn't easy sleeping on moving boats and things always sound windier and rougher below than they too on deck. She appeared again at about half past midnight when we switched on the engine to come into Falmouth Harbour Antigua, Adam and I had the usual middle of the night debate about the best place to park and mum wisely put the kettle on. 1am saw us anchored in nice calm water back in Falmouth.
Getting back Monday night meat 2 days for us to relax before Mum's flight back so we visited English Harbour and Nelsons Dockyard and I dragged her up the hill on the trail between the harbours where there are all sorts of prickly plants to attack your feet. The sunshine was back in full force in Antigua so even walking a mile takes a couple of hours on a steep track.
Wednesday night we said goodbye to Mum, it has been great having her over here, although I packed quite a lot into our schedule so we are now both worn out and imagine Mum is enjoying a couple of days rest!
Sailing away from Dominica on Saturday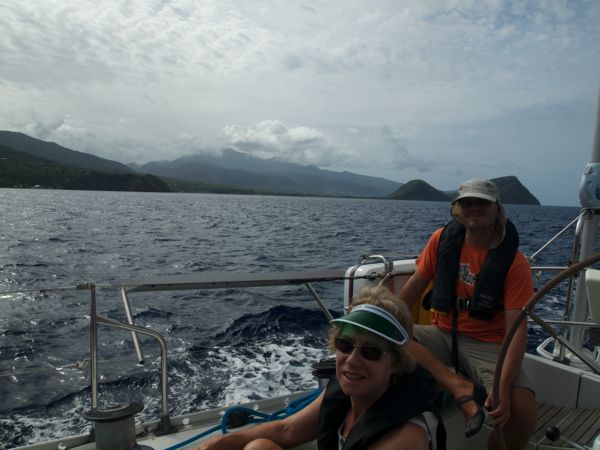 Mum and Adam watching sunset at the harbour in the Saintes
Mum at the lookout tower on the South of Falmouth Harbour
I can't help taking pictures of these . . .. hummingbird on the walk across the Falmouth to English Harbour trail. This tree was full of them.
---