Pics Around Horta

Adamandsusie
Susie and Adam (both think they are skipper)
Thu 14 Jun 2012 19:22
We're finally in the marina – we preferred to wait for a berth not rafted against the outer wall so today have come into a pontoon which we can have for a week if we want.
Been for a walk yesterday out of Horta and along the coast and we also climbed up Monte de Guia the other day which is next to Horta and is a little volcano cone flooded by the sea.
Had a few drinks with Tom who sailed his boat here solo and has just left today on the final passage home. Apart from that been fixing a couple of things on the boat – one which meant Adam getting permission to dive in the Harbour and putting on his Dry suit – DRY SUIT – most people seem to dive in Wetsuits here but it isn't warm! – 17 degress compared to 29 that we left in the Caribbean, I think I would have my dry suit on as well.
View across Horta below from the Chapel on top of Monte de Guia, you can see the Marina's just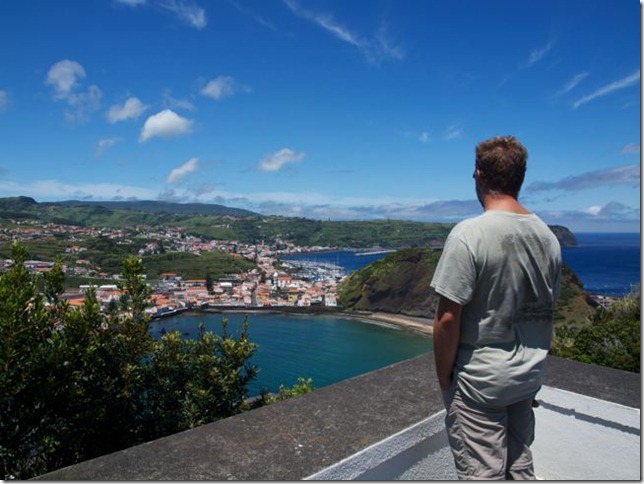 This isn't a picture of our neighbour's boat – it is a picture of Pico – you never see all of it, usually you see either the top, middle or bottom but not ever all at once. We have been trying the wine from Pico and it's perfectly drinkable. We have cheese from Pico and from Sao Jorge – the Sao Jorge cheese wins but it is pretty strong stuff
In the Evening they sail the old whaling boats around the harbour, they use them to race in the summer – no more whaling is done here. They have oars as well which they row the boats out with
One of the parks in Horta – there are lots of beautiful buildings and every small park is very neat.
We went onto the beach on our walk – it is all volcanic lava and really deep big rockpools have formed – they have built a path out through the lava so you can swim in the rockpools.. . . .. . well, maybe at the end of August you do! – we're not brave enough now. They were very clear though with small shoals of fish swimming about and impressive amounts of bright green slimy weed on the rocks – not sure how you get out of the pools once you are in
We needed to consult the map on our walk into the countryside, the guy on the quad bike actually went passed us, went down the road. . then came back again to see if we needed help – so I caught him on the picture on his return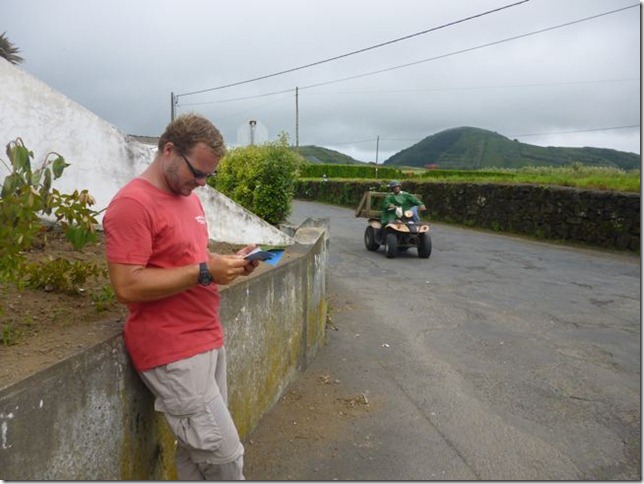 ---