Marin - Martinique

Adamandsusie
Susie and Adam (both think they are skipper)
Sat 21 Jan 2012 21:56
Got some maintenance done on the boat in St Lucia, and on my ears which decided to get infections that required multiple trips to the doctors and all of my conversations with Adam featured the word 'what?' which did get a little trying for both! I think we were both quite glad to get away with ears (hopefully) on the mend.
The winds and waves out here are back to 'normal' for winter - it's windy and unless you are behind one of the islands - there will be waves. . . .
We set out yesterday to Martinique. This year we decided that we would close the hatch to our bedroom before taking on the high seas so avoided getting a soaked boat. Really quick sail across (just 3 hours to do 21 miles) with some big waves - plenty of water over the bow and the first time ever in our history of Stargazer we had water over the decks and into the cockpit. She handled beautifully though, admittedly - going and making food/drink wasn't really an option although somehow Adam managed to make a cup of tea it was a pretty bouncy crossing.
Arrived and anchored in St Anne's like we did last year, today we decided to move up to Marin which is in a huge almost enclosed bay lined with mangroves. This is the boating centre of Martinique and there is an enormous marina and hundreds of anchored boats out amongst the reefs and in the mangroves. The town is quite nice with some old churches and buildings, but also there are lots of apartments springing up on the hillsides.
Today has been lots of noise and excitement as they have been racing the Voles Ronde (I think that is what they are called) - the local boats look fun to race, and very difficult. They are long and narrow with a square sail. They are steered by a long oar type rudder and this takes 3 people to move it, the rest of the crew have to counter balance the boat by climbing out on poles that they put out over the sides. If they don't do the counter balancing correctly then the boats fill rapidly with water and large buckets are employed for bailing. If that doesn't work then they sink. We saw several sink today and have to be towed in with the crew still sitting in the boat (just their heads and shoulders showing). So it's really entertaining, and they seem to let girls race them too! inexperienced crews seem to spend more time bailing out the boats than actually sailing them
The town beach was set up for the races with some music and info on the history. We have just finished watching them race and come to a bar that sits by the waters edge to write this (no internet on the boat here). I have to practice my french - I have done a bit so far but need to be brave and do more!
The only two masted boat
3 working the rudder, and the rest counter balancing
The old church and beach front from the water
Our view from the bar across the vast marina and into the anchorage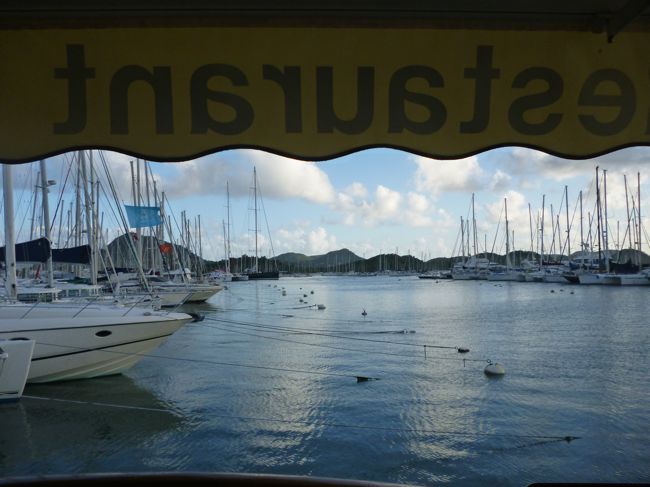 ---