Day in Ile Fourchou

Adamandsusie
Susie and Adam (both think they are skipper)
Wed 13 Apr 2011 00:11
We spent a full day in Ile Fourchou, it was fantastic to be out anchored in a little bay with nothing there again other than a few other yachts. The island I think looks more green in summer which is the wet season, it is covered with grass but this was mostly dead at this time of year with the only vegetation being some cacti - there used to be goats on the island and they deforested it completely, there are no goats any more. It would have been prettier if it still had forest - however - the underwater scenery made up for that.
The bay has free mooring buoys because it is part of the St Barts Marine park, we had to anchor at first but shifted to a buoy as soon as one came free. The water was beautifully clear and we had rays and turtles swimming under the boat. Had to go for a dive yesterday afternoon, there is a reef over the other side of the bay by the little island on the photo below, you can tell that there is no fishing around here allowed as there were loads of fish and some big barracuda so we had a great dive,feels like the first dive we've done in ages after our stay in a marina!
Here's the view across the bay from the boat, in the day it looks more like parts of the canaries rather than the Caribbean . . . . and there were some great clouds at sunset so another pic of that too. It's actually been pretty cloudy here the past couple of days which has made a good break from the heat in St Martin.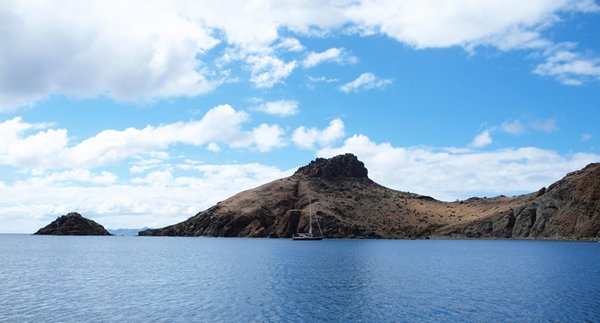 The last light of the day
This is a porcupine fish - they are quite big, about a foot and a half long, I think that they can puff up like puffer fish - they don't look like real fish, they look like cartoon fish with those big odd eyes, but very sweet trundling about on the reef
schools of fish hiding around overhangs
Sponges and things covering the rocks
Angelfish being cleaned by little yellow cleaner wrasse, you can get your hands cleaned by the wrasse too if you know where the cleaning stations are, but this one was a bit too close to lots of coral which you don't want to risk damaging by getting to close to it. . . anyway - our hands were clean and the wrasse were busy
---