wreck diving - Porto Santo

Adamandsusie
Susie and Adam (both think they are skipper)
Thu 7 Oct 2010 21:10
Excellent day today. The weather was forecast to be really calm today so we thought we'd go and try and dive a wreck that was showing on the chart between here and the little island we dived around the other day. We had no idea if we would even find a wreck still as the charts don't change very often but we went out in the tender to have a look anyway. We got to the GPS position and spent about 5 mins motoring around looking at the depth sounder - then saw a buoy floating about 4m below the surface - we then found our wreck on the depth sounder too. Decided to tie a line from the tender to the buoy so Susie went down to loop it around - at least then we could switch off the engine with the dinghy moored to the wreck
We had no idea what we would find but were happily surprised - not the most historic of wrecks - it appeared to be a deep sea trawler - but still a pretty big boat with plenty to swim around, and loads of fish.
No triggerfish at all today - instead we had a gang of Groupers - Susie only saw one big inquisitive Grouper on her dive, but Adam had 3 nosey fish to contend with They were big enough - nearly 3 ft long - and solidly built. There was a bit of current at the start of the dive so Adam was having a rest after descending, with both hands holding onto the ships handrails - a grouper decided to swim up between his arms to have a look at him, he rapidly let go and had to elbow Groupers out of his way.
Here's one of the Groupers - no sense of scale on the picture but he's a pretty big fish - or at least it is when it's looking straight at you from 1ft away - this one bumped his nose into my camera lens just after the photo.
There was all sorts of fish around the wreck - like always the photo's don't capture everything that you see but it was covered in fish. 50 or so metres out from the wreck were big schools of sardines or something - there were Jacks and Barracuda all lurking around the wreck waiting to go and get the little fish, when the did go and attack the schools they all grouped together in a big ball which was impressive, thousands of little fish.
Some more pics. . .
Jacks or Snappers (think they are smaller jacks - need a fish book!) hiding out one the lower deck.
Stern deck with Jacks - again these weren't afraid of us, they would swim past only a couple of feet from you.
Another Grouper and Jacks in the background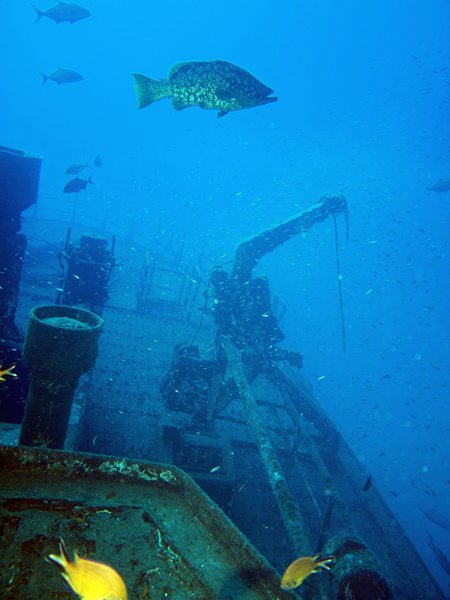 Illuminated Grouper! (but ran out of flash batteries after this - not yet very practiced with my new flash)
Stingray hoovering around the sand next to the wreck
When we got back to the harbour we noticed that we were the only boat on the mooring buoys outside the Marina. We knew that the weather was bad tomorrow and Saturday - but had thought we should be fine in the harbour. By 6pm tonight we had been collected and advised to come into the Marina by the harbour staff, they told us they had saved a space for us! - so now we're in the little marina, charging up batteries, camera's and everything else we can think of - and wondering how big the waves coming into the harbour really will be. The wind is only forecast to force 6 but obviously the staff here are worried about the size of the waves and swell that will work their way in. It's all peaceful and calm right now so we'll wait and see what the weather is like tomorrow, perhaps a day to get the kite out and be dragged around the beach by it. At least we knew today would be calm so we managed to get a dive in - shame we can't go back tomorrow!
We have been looking at the weather reports coming in on the navtex over the last few days - so happy that we made the crossing to here from Portugal when we did as we were considering leaving it another few days - if we had we would still be in Portugal now, much the same as the UK there have been gales along the west coast of Portugal with huge seas. Most of the west coast ports and Marina's that we stayed in North of Cascais were closed over the last week - we went into them when there was little wind but it was still a bit un-nerving as the swell breaks on all the sea walls , they have to close them when the weather is too bad as it is too dangerous for small boats to get in, safer to stay at sea (but not a nice prospect). Unsurprisingly no new boats have arrived in Porto Santo for the past 5 days. Not expecting gales here - but just strong winds from the south will bring big swell so best to be tucked away in the marina.
We are making curry for tea tonight so had better get on with it - advanced curry as well, Adam has decided to make paneer cheese so that will keep us busy most of the evening.
---