Lisbon and Cascais party

Adamandsusie
Susie and Adam (both think they are skipper)
Sun 19 Sep 2010 18:56
After a couple of lazy days spent mooching around Cascais, we went for a day out to Lisbon which is just 30 mins on the train along the coast from Cascais.
We arrived in the station in Lisbon and, like the other tourists - we expected to find some tourist information and mainly some maps - but there were none in sight. Tourists wandered around and eventually dispersed in various different directions. We did have a not very good map so headed out to what looked like some big buildings - in the space of a 10 minute walk we went from feeling like we were walking through the back streets of any city to finding the main attractions and hordes of tourists.
The main square on the waterfront and entrance gateway is pretty impressive as can be seen below.
The buildings in the old centre of Lisbon are all in a good state of repair and clean. There are some very beautiful buildings and streets and we spent a couple of hours just wandering around these.
We found an art deco Theatre which is very impressive (although is now a hotel) and an old and very odd elevator that takes you up to the ruins of an old convent Adam's favorite was the Theatre.
We came across a kiosk selling something called Ginjinha needing a break from our walking we thought we would give it a go - apparently it traditional drink in Lisbon - we think that it is Cherry Brandy although we are not entirely sure. It was drinkable but pretty sweet - in Sintra they sell this in chocolate cups. This is Adam at the oldest (and apparently the first) Ginjinhashop in Lisbon
For some unknown reason we expected Lisbon it to be flat - but like Porto it is built on hills although not quite as steep as Porto. On the top of the highest hill in Lisbon is a castle originally built by the Moors and later taken over by Christians, this was the first settlement in Lisbon. We decided to walk up to the top of the castle - there were lots of steps.. . . . and then more steps.. . . . . . once at the top you can walk around the walls and there are fantastic views across the city and the River Targus.
There was quite a lot of music in Lisbon with buskers everywhere - some of them very good, and jugglers (who were not very good) and the famous trams were everywhere. It is a good city to walk around - we passed loads of museums but did not have time to visit and were too interested in just seeing the city itself.
On returning to Cascais in the early evening there was an evening of entertainment going on, even the locals didn't seem sure of the reason for this but it was good. There has been an event on to encourage people to try sports so probably something to do with this. Early on in the evening were some very strange and entertaining street performances. . . . . . .
Strange people forming human statues, a magic show, Dancing giant slinky springs that later on randomly appeared in the middle of a roundabout, dancing and confusing passing drivers - very funny, health and safety in the UK wouldn't allow this we're sure.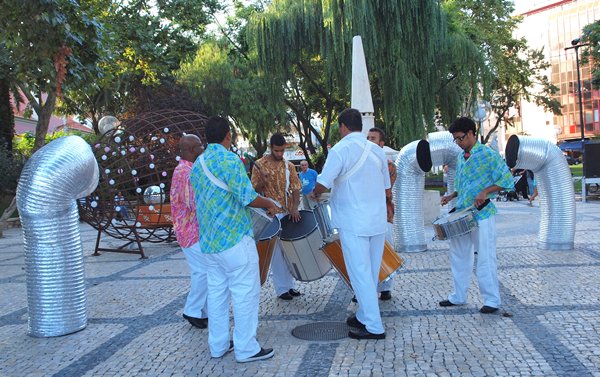 Adam's favorite though were the Samba drummers and their scantily clad dancing ladies who were extremely energetic and very competent at dancing in very high heels. Later on bands played until Midnight (much more civilised than spain this - thing finish at midnight rather than starting at midnight)
---