Petit Piton and Soufriere Bay Pics

Adamandsusie
Susie and Adam (both think they are skipper)
Wed 26 Jan 2011 21:42
26:01.11, 13:50.61N 61:03.79Whal
Much better weather today - went ashore and walked into Soufriere village for a look around, the vegetation here is beautiful - really lush forest with hundreds of butterflies.
Snorkelling this afternoon in the bay that we're moored in. Adam wants to climb petit piton tomorrow - we'll see it is quite tall. We couldn't be bothered to get out the dinghy to get ashore today so swam ashore with clothes, little camera etc in a dry bag - luckily the dry bag did stay dry but it poured with rain on the way back from town anyway so we could have just swam in our clothes!
Soufriere is ok - only a small town with lots of bright painted wooden houses and a few shops but not much else
Some Pics of the surroundings that we took today. . . . .
Petit Piton taken from the boat at breakfast time
Soufriere Bay from a large hill we walked up - Soufriere village on the far right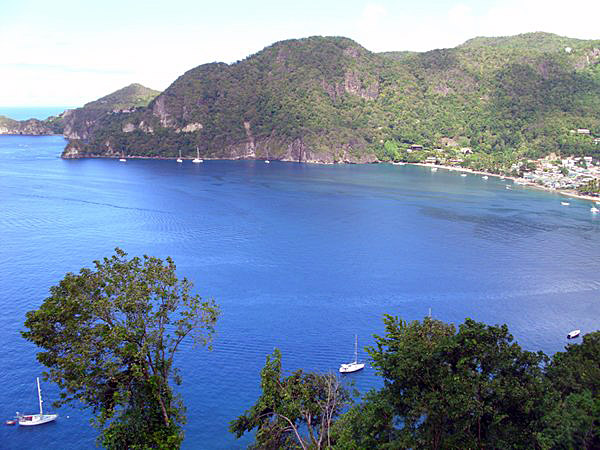 Susie modelling the Pitons national park sign
Stargazer in the crowded anchorage (unfortunately there are now about 6 other boats here - pah!)
Finally - two strange insects that I found when tying the boat to a tree - they are well disguised but huge - about 3 inches long - I nearly tied the rope over them. Perhaps things like these make the noise in the forest at night. I wanted to prod them to make them move - but they were a bit too scary and they waved their antenna at me in a menacing fashion.
---