Bequia arrival and arrival of the Trades!

Adamandsusie
Susie and Adam (both think they are skipper)
Thu 22 Dec 2011 18:21
20:12.11, 13:00.56N 61:14.66W
After leaving the Tobago Cays we had a superb sail 30 miles up to Bequia. Bequia is the largest of the Grenadine islands and the furthest north, just below St Vincent.

Admiralty Harbour - Stargazer is unfortunately hidden in the plants in this pic.
Bequia is loved by Yachts, as a result we can get food in here that we haven't seen in any of the smaller Grenadines. Although some things are very expensive – we decided to make a chocolate cake for xmas, and chocolate is a luxury! Since we got here we have been really impressed with the fresh fruit and veg available.
There are a number of fruit/veg stalls on the main street and in a small market hall – and it is the best we have seen so far this year – Papaya, Mangoes, Avocado, passion fruit and Soursop etc etc (we have now tried fresh Soursop and can report that although the flavour is nice – like pear – the texture is rather weird and is probably best in smoothies and things.. . . . ).
There is one fruit/veg trader who seems to do pretty well, he has his stall on the town on the main street, he lets you choose what you want and just sits and waits, most people seem to go to him. We did venture into the little vendors market where you get pounced upon by all the sellers trying to get you to their stalls – it all gets a bit much, although they are really friendly it isn't the most relaxing way to get the groceries. We met 'Sunshine' who let us try fresh peanuts and soursop – he's a nice guy so I we'll go back to get something from him when we dare run the gauntlet of the market place but we will go in knowing exactly what we want.
The mangoes here are cheap and for sale everywhere so I am making mango crumble for pudding tonight and also having a go at home made mango chutney.
There is a guy who comes out in a little boat at 8 in the morning selling fresh baguettes and croissants – you just have to keep an eye out for him and hail him over but you can't complain at delivery straight to the boat for breakfast!
Bequia does have yachts visiting but it is still not on the cruise ship or large hotel route at all. They still keep to their old traditions – one thing they still do here is Whaling. Although we don't like Whaling – it is not the same as the Japanese and Norweigan ships that go out. Here at least they go out in rowing boats and only have hand thrown harpoons, so at least it is more 'man vs Whale' and not 'Whale vs large fast ship and has no chance', the whalers of the island are still considered pretty brave. I think the fact that they only hunt their traditional way has meant they are still allowed to do it. In theory they are allowed to catch up to 4 humpback whales per year – although all the 'old' whalers are getting too old now and I don't think it is unusual for them to catch nothing at all some years. Whaling season is February so at least we'll be gone by then.
A day after we got here the trades arrived with vengeance. The last two days we have been on the boat after dark and only done quick trips to the shore as it has been really blowing – 25 – 30 knots howling through the harbour. It is due to calm down over tomorrow and Saturday so looking forward to that.
Lots of people have had trouble with their anchors and we are out in deeper water than we would like and have all our anchor chain out and a fair amount of rope (actually this is the first testing to date of the splice I did last year to attach the rope to the chain – so it is getting some test). However – so far we haven't moved so we'll stay here.
We had more excitement than we wanted last night (why do these things always happen after dark. . .) we had been sat outside having a drink and a chat when we heard someone shouting further up the harbor.
The wind was howling and it was pitch black with just boat lights and shore lights to see by. We saw a black shape of a boat right next to another catamaran about 300m in front of us. We then realized the black boat was drifting haven broken its mooring. . . and it was drifting at a fair rate straight towards us. Two guys in a dingy were trying to steer it away but a small dingy can't do much in those winds. I tried but didn't have time to start the engine and looked up to see the boat coming sideways on towards our bow. Adam was up front trying to fend off and I expected a large crunch – but there was none – I think our taught anchor rope that was stretched out ahead of us took the brunt and actually caught the other boat. The boat then turned to scrape down the side of us – but the guys in the tender managed to get themselves between us and it. . . which was good for us – but must have been a little scary for them to be acting like a fender! A few seconds later and the drifting boat was disappearing off toward the next boat behind us which was a huge and very expensive yacht. They managed to fend off with their tender and we watched the tender lights recede out to sea, we couldn't get our tender in the water as the engine was off and it was all lifted out for the night.
It was at this point the guy whose boat it was looked up from his dinner on someone else's boat to notice his boat had vanished. They saw the torches about half a mile out to sea and went out in their tender. Amazingly we saw them come motoring back in about half an hour later – with the winds being high and the fact it was pitch black we wondered how long the other people could keep trying to get control of the yacht given that it was drifting out very rapidly to sea.
Anyway – we only sustained a couple of small scratches which I can fill so it could have been much worse. Plus the guys whose boat it was got their boat back! – but it was more excitement than we needed at ten o'clock at night. We spent the next couple of hours awake and paranoid of boats bouncing down towards us like space invaders, luckily no more excitement tonight – but some quite entertaining conversations today as we found out the news from the guys who helped save us from more damage.
There's always someone with a bigger boat. We walked up the hill on the bayside yesterday from where you can look down across the whole bay - we found Stargazer - but with the blue neighbour to the side of us she looks like a bath toy or a dingy - please can we have a bigger boat? (Stargazer centre on the picture to right of palm tree with blue sail cover)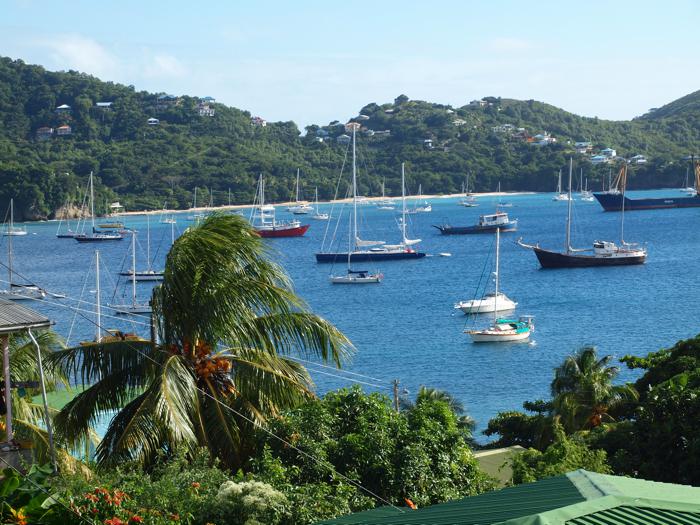 ---