St Georges

Adamandsusie
Susie and Adam (both think they are skipper)
Thu 1 Dec 2011 12:59
Been a busy few days in the Marina in St George, we got the outside of the boat all done in the yard - but lots of cleaning etc to be done on the inside. Just sorting out our dive kit took all yesterday afternoon with new bits of kit to add. . . and finding things that I really should have cleaned off 6 months ago before I left - but, hoping to go out and do a dive this afternoon.
Cleaning out our water tanks on the boat was . . interesting. . Adam announced that there 'is some kind of tentacle growing in the tank' - wasn't quite a tentacle or the sea beast I was expecting as i peered in by torch light, but 2 hours with the dettol and scrubbing got them sparkling.
The other day we needed a day away from boat sorting stuff so caught the bus up to the national park in the centre of the island which is called 'Grand Etang', this is an extinct volcano with a lake in the crater and lots of forest around with hiking trails. Usually we look up to the hills and they are shrouded in cloud so nice and cool, but the day we went up it was all clear with blazing sun so it was a warm walk. At the start of the trail we were issued with sticks which we took as we thought we ought to show willing - however, they were much needed as it has been raining a lot in the hills and the paths were really steep in some places, sticks are also very useful for crossing rivers we discovered.
We stopped by some waterfalls and saw the biggest mozzies we have ever seen. Glynn who runs the marina here and who Adam knows from the UK had advised us to be careful of the big mozzies with striped feet as they can carry Dengue fever (I think they are tiger mosquitoes), I laughed since I wondered - how are you ever going to get close enough to see a mosquitoes feet, surely you would need a microscope. But we saw the feet of these ones from a good distance as they closed in on us in a threatening manner - zip on trouser legs were at the ready and much more effective than repellent (plus we looked like proper hikers I think). If you can see the stripy feet - it's time to go.
Nearly a very long day on the way back. We thought that the road through to Grand Etang looked a bit quiet on the bus front when we were up there. . . .at 3pm we were ready to go back to the boat. . . . there were some of the people who work at the National park centre also waiting for buses. . so we waited .. and waited.. . then we found out that Grenada's second town (Grenville) was flooded the previous night by the rain storms. Lots of people with no power and about a foot of water on the streets - we were waiting for buses from Grenville. We decided after an hour or waiting that we would walk the 6 miles back to town as it was mostly down hill.. . of course - within 15 minutes of setting off a bus showed up so we got a ride back after all. Not heard much news on the flooding - I am not sure how often it happens up here but not a lot of fun for the people who live there.
It's Adam's Birthday tomorrow and at the moment we are planning on sailing to Carriacou island which is also part of Grenada and about 20 miles to the north.
My favourite building on St George's water front, I don't think this would go down well in Lancashire though.
Shoes and socks off in preparation for crossing the river
Me with My trusty stick
Small holding in the hills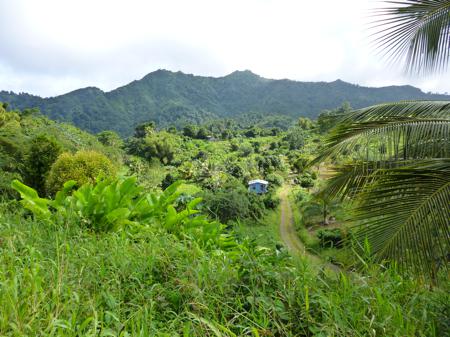 Grand Etang Crater lake
Banana Flower
---