Grenadian Chocolate and Buses

Adamandsusie
Susie and Adam (both think they are skipper)
Wed 4 May 2011 23:56
After leaving St David's Harbour we spent a couple of nights anchored in Prickly Bay just a few miles to the East, wondered ashore and were happy to see John and Alex there from Free Spirit - last time we saw/spoke to them was about 200 miles into crossing the Atlantic from Mindelo. So we had an evening catching up on happenings in a bar, they crossed the Atlantic a little further south than us and had stronger winds so it all sounded a bit more stressful, we had quite few a drinks then at the end of the night Susie driving the tender back to the boat - it was about half a mile away out in the bay and it's a good job Adam has a better sense of direction than me as I was heading off the wrong way completely - it is very dark and all you can see is dim shapes of boats and occasional anchor lights in my defense!
Sunday we went down to the beach at Grande Anse again in the hope of finding Dave who we used to know in the UK through diving but unfortunately we didn't manage to spot him, hopefully Adam will get a chance to catch up in the next couple of weeks. The other day we came around back to St Georges and to the Marina in Fort Louis where Adam will be preparing the boat for the next couple of weeks before we get lifted out for the summer, the Marina is pretty new and very nice - Adam used to work with Glynn in the UK and Glynn now runs this place!
Today we went for an explore of the north of the island, the people here are really friendly and helpful and we were helped out with getting the right bus for where we wanted to go. Like many of the islands the buses are little mini-buses, which zoom around the island pretty much stopping anywhere - some of them have been customized and all have names. It wasn't that far to the north of the island but the roads twist and turn through the hills and it took us ages to get to the north side, as many people as can fit get crammed in even when you think there is no more space. There is always a conductor and driver - the conductors are good though and chuck you out where you need to get off or direct you to the next bus. We spent 3 hours on 5 different buses today for a grand total of £5 each which isn't bad.
This is my view from the back of the bus. . . . . (Grenada flag would look better on the roof though)
Our mega bus ride did have a purpose, I wanted to visit the cocoa plantation / chocolate producer at the Belmont Estate. We finally arrived and in the hills it was pouring with rain. The estate is a 400 acre plantation which used to supply cocoa to Green and Blacks and Cadbury etc, but now makes their own chocolate instead. They run as a co-operative and also buy cocoa from other farmers on the island. I now realise why, when we were walking through the cocoa plantation in St Lucia, it didn't look like a 'plantation' - apparently the cocoa trees like to grow in the shade so the cocoa trees are planted with Mango and tamarind and other trees between to give them shade - hence a plantation looks more like another bit of forest.
It's only a really small place and a chap gave us a tour and explanation of how the beans are harvested, fermented and dried before being turned into Chocolate. When they used to sell to other manufacturers the beans were also 'polished' for sale, this was with feet in large metal bowls (apparently while drinking and dancing on the beans with music in the background) - they don't polish beans any more as it was just so that they looked nice for the reps from the choc companies and not actually necessary!
Below are the sheds where the beans are dried - it was chucking it down with rain so the roof was on - but the roof is on wheels so can be rolled back and the trays of beans also slide out on metal wheels along the walls that you can see to dry in the sun.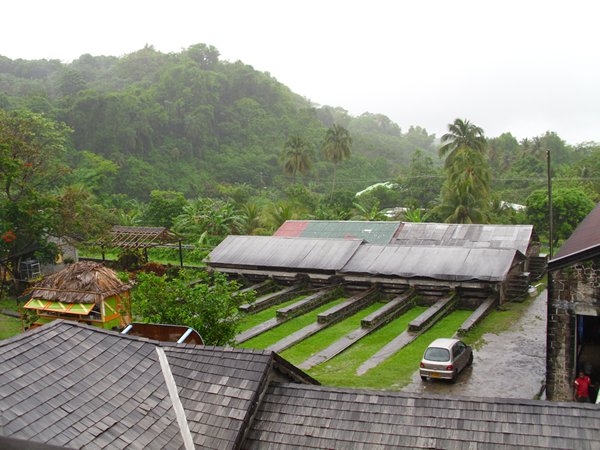 It's great place, everything is organic- we bought some chocolate (82% cocoa) - here's the list of ingredients on the back of the packet - Organic Cocoa Beans, Organic Cane Sugar, Organic Soy Lecithin (an emulsifier), Organic Vanilla Beans. That's it, I think the list on the back of a bar of dairy milk may read a bit different (although I have confess I have poor taste in chocolate and could probably eat more dairy milk! - Adam is much more refined - he's happy with the chocolate and chili truffles that we bought) - we may manage to bring a few bars home. . .. . .
When we were there there were farmers arriving with their beans to get them weighed and get paid for them before they were added to the fermenting bins/
Adam below walking down the driveway to the fermenting and drying area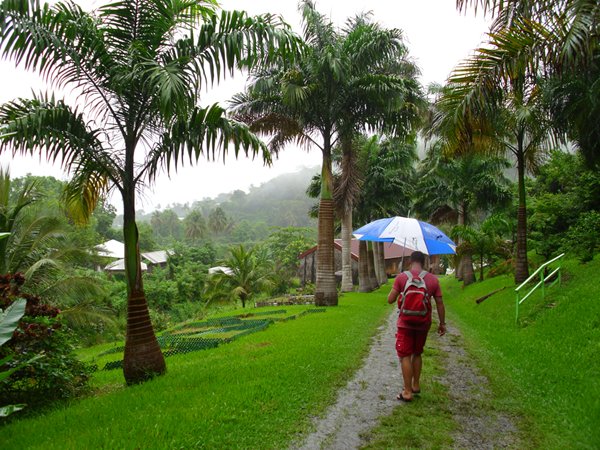 A school trip arrived when we were looking around the place, we joined them to watch the film on chocolate making - there is a naughty young fellow on the right who had to be told to behave and pipe down a number of times. . .
Since it's my last full day and as there was something veggie to eat we had lunch at the plantation restaurant - it was pretty good - Plantain soup and Goats cheese fritters to start, main course was an aubergine and tomato bake with rosemary rice and Dasheen, Sweet Potato, Green Banana and Yam side dish. Salad with Nutmeg Dressing and Chocolate and Cinnamon Bread pudding for desert - yum, we're still stuffed.
And this is me under the, errrm. . . interestingly formed, 400 year old Tamarind Tree with the bell that used to signal to slaves back in the olden days. . . .
---