Sunken wrecks and Goliath Fish

Adamandsusie
Susie and Adam (both think they are skipper)
Mon 23 Apr 2012 19:52
22:04:12, 18:25.55N 64:39.58W
View from the hills on Peter Island over the Deadman's Bay anchorage and Deadchest Island, Tortola is in background.  Stargazer looking particularly small in the middle of the picture behind the super yacht! (why do they always have to park near us ).  We've stayed in this anchorage on a few nights - definitely one of our favourites.
More of the same over the last few days we're glad to say, can't complain about 'the same'.  More diving (hurray) over last 2 days although had to have a day off today.  Decided to dive some more wrecks yesterday - 3 in fact, between Salt and Cooper islands.  They were all sunk for one reason or another and not that old - one was a boat found with 3 containers of drugs on it, so they sank that, another tug that they put next to it and the 3rd a small container ship that was towed out and sunk before hurricane Bertha was due to hit about 15 years ago - they were worried it would damage Road Town so they dragged it out and sank it, amusingly (although probably not for the owner) the Hurricane never actually did hit
The wreck's were OK - not like the Rhone though - but fish and coral are starting to grow on them.  On the dive of the container ship (Iganess Bay) the best thing by far was finding a massive Goliath Grouper living under the wreck - I have never seen a fish (other than sharks. . .. which are different)  that enormous.  I had just seen a bit of the ship to possibly swim into and was gesturing for Adam to go in (may as well send him first!), as he slowly moved towards the entrance I spotted a pair of eyes and huge mouth sat below a piece of wreckage, Adam spotted it too and reversed back out then glared at me.  Really good to see a huge grouper like that though - I have never seen that size, Adam has but only 15 years ago in the Red sea and you don't see them any more.  It never came fully out of the wreck, which was probably a good thing really!
Also spotted public enemy number 1 on the wreck - indo-pacific lion fish - I thought I got quite a good photo, but these are the fish that don't belong here (they escaped from an aquarium in Florida) so the environment departments of all the windward and leeward islands are trying to get rid of them - given how many we've seen in BVI we're not convinced they are winning though.  As an aside learnt that Richard Branson has brought Lemur's onto 'his' island that he owns up by Virgin Gorda (Necker island) - lots of people not happy about that as no one knows how far a lemur can swim.  Not sure why he felt the need to bring them out here rather than just invest some of his billions in trying to save them where they actually live in Madagascar.
Actually SAILED today (most of our trips have been so short it isn't worth putting up sails), we went to the far western tip of Tortola to a place called Sopers Hole to get some bread and stuff, decided not to stay there and have come around the West to Cane Gardens Bay which looks very Caribbean (for the BVI's anyway).  It has palm tree's to rival Dominca.  There must be a lot of fish around here - as we were pulling in we saw a mass of pelicans feeding, not 4 or 5 pelicans which is the norm, but a couple of hundred - there were rafts of Pelicans on the water.  Even in the bay as it got toward sunset the water would boil every so often with huge shoals of small fish being chased by larger ones - not seen anything quite like that before.  
We had to sail dead downwind to get here so we decided to pole out the genoa - haven't done that for about a year on our crossing of the Atlantic, so it took us a while (there are lots of bits of rope to contend with), but it kept us entertained - about 45 mins worth of finding the various lines for poling out, remembering where to tie them, getting the pole out and sail set. . . . then after about 15 mins the wind changed so we put it all away again! - never mind all good practice.
Walked up to the top of Peter Island the other day to try and see if Deadchest island really looks like a coffin, we can only report that the light was probably wrong and we weren't squinting quite right.  The small resort on Peter island is quite good though, it is the only thing on the island apart from one fishing hut.  None of the resort buildings are big and none of them more than 2 stories (most 1 storey) so they're all hidden in the trees and they are quite far apart.  Because Peter island guests don't like roughing it they get ferried from one place to another in little electric cars, but . . .  in case they do decide to walk - then on the main tracks up the hills there are chilled water stations which we found very useful! - it probably sounds awful from the description but the island is 90% untouched so it is actually really lovely as it is mostly left wild.
 View to the West from top of Peter island in the late afternoon, Norman island is on the left, the US Virgin Islands in front.
The dastardly Lionfish living in one of the wrecks.
Goliath Grouper under a wreck - not a very good pic as he wouldn't come out any further and I wouldn't go in! - you can't get a sense of scale - his mouth is about a food and a half wide!  Perhaps it got that big through eating divers who ventured into the wreck . . .. .  
Gang of 9 baby squid we found sitting under the tender when we got back from one of the dives – they are all about an inch long and perfectly formed miniatures.
Picturesque yellow fish ( and one red one) in a cave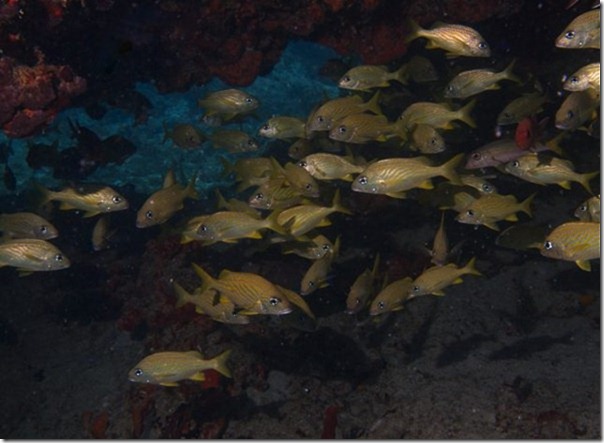 ---