Full Moon Party and Wreck of the RMS Rhone Dives

Adamandsusie
Susie and Adam (both think they are skipper)
Sun 8 Apr 2012 23:22
Friday night we sailed back to Tortola to go to the Trellis Bay Full Moon Party which was basically some live music and drinks on the beach which had been decorated with fire sculptures etc. The anchorage was packed so we squeezed on the end, we had fun but most surprising was that we out lived the party that night - it all finished at about 1030 which is most non- caribbean, we were shocked. Next morning we got booted out of the anchorage at 0730 by the airport security people who told us and all our immediate neighbours that we were in the restricted zone (I think they just like getting people up early as we had checked and we weren't!) - still - we had an hours sail back down to Salt Island where we had planned to dive the 150 year old wreck of the RMS Rhone. We expected it to be busy with loads of divers but we were really lucky and we didn't really see anyone else on either of the two dives we did other than for 5 mins at the start and end.
The Rhone is a large wreck that you really have to do in 2 parts as the bow and stern are separate as it broke up - lots of fish and loads of life on the wreck, we really enjoyed it and the weather has been perfect for diving i.e. no wind.
Some Pics of the wreck . . .
The Bow which is the deepest part (every inch of wreck is covered in sponges and coral)
My beautiful assistant modelling the huge propeller that is half buried in sand
Purple Sponges
There were lots of schools of fish around the wreck - these are jacks prowling about
You could get inside the forward section and swim through the tangle of wreckage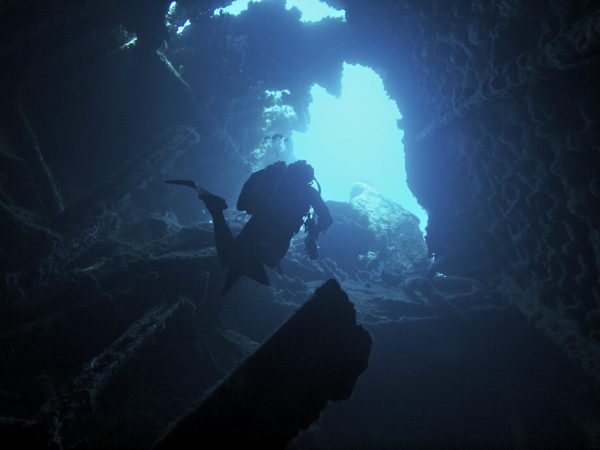 We had a day off diving today and stayed in a small anchorage off Salt island before coming across to Cooper island tonight so we could use the internet!
---