Arrival at Cascais and Happy Birthday Dad!

Adamandsusie
Susie and Adam (both think they are skipper)
Tue 14 Sep 2010 09:40
14:09.10, 38.41.87N 09:24.77W
HAPPY BIRTHDAY DAD - Hope that you have a great Birthday lots of love from both of us!! x x x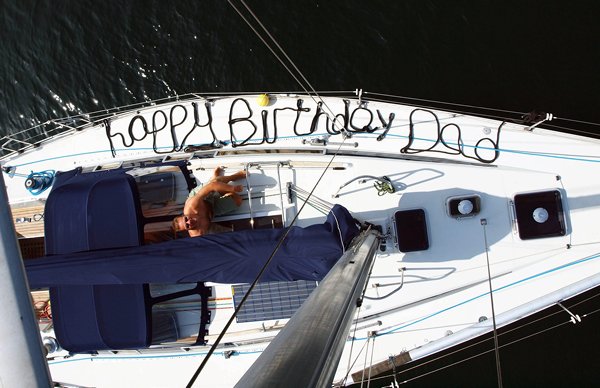 After an extra days recuperation at Nazare the forecast looked good with moderate NE winds so we set off at 6 in the morning for Cascais, a trip 70 miles south.
We expected to be motoring in the morning as the winds are often non existent then - but by late morning should have picked up the alleged 'Portuguese trades', as we approached some little nature reserve islands off the coast of the peninsular of Peniche (Ihla Da Berlenga) the wind did start to pick up and we needed to go dead downwind so excitedley got our our pole so we could pole out the genoa and mail on opposite sides and wing down the wind.
If we had known the wind would only last 2 hours then we would have anchored at the islands - we would have been the only boat there once the bird watching day tripper boats had gone. So we got 2 hours of wind before it vanished and it was back to motoring - for the rest of the day!
We arrived in Cascais at about 9pm in the darkness but it was fairly easy to find the anchorage and we anchored off the beach. Not much wildlife spotting (either dead or alive (see note on whale from a couple of days back) on the way down although the highlight was where we assume dolphins and large sea birds were chasing a shoal of fish - the dolphins were leaping out of the water all over the place and the birds - Gannets and other big brown birds that look like gannets, were diving straight into the water like darts. We watched this for 15 mins or so. We also had 3 dragonfly's hitching a ride on our boat - not really sure what they were doing 5 miles out to sea - but they came and sat on the boat for most of the afternoon for a ride - assume that they got off at Cascais!
Cascais so far looks great - lovely place with Lisbon just 30 mins on the train, think we'll spend at least a week here.
---