Chatham Bay - Union Island

Adamandsusie
Susie and Adam (both think they are skipper)
Tue 13 Dec 2011 16:53
12:12.11, 12:36.25N 61:27.06W
Saturday morning was not the most peaceful awakening in Clifton Harbour, someone rapping on the side of the boat. . . we had just got up and Adam went out to investigate. The wind had died completely and the Large, rusty, metal trawler that we had anchored next door to and had previously been a good distance away from had decided to swing around so that its stern was only a few metres from the freshly polished, white and shiny side of Stargazer.
With no wind boats like this lie completely differently to our boat. I said hello to the chap from Union who owns the trawler as he was sat at the back and only a couple of metres away. . . his view was 'it'll be ok mon', it probably would have been ok and who knows, our boats could have been happily close all night whilst we slept, but it wasn't exactly relaxing. We upped anchor in a hurry, dinghy still handing over the side of the boat and trundled around the packed harbor looking for somewhere else to go. We tried anchoring out near the entrance but the currents and lack of wind were doing strange things. We had wanted to say goodbye to another boat we met (Emma and Terry on Libertine) and get some more food in. . . in the end we just went for sticking me in the tender so I could row over to them, swap contact details, then row back to Adam and Clear of out of Clifton (it's too hot out here for too much messing about!)
So at least we were out before breakfast and on our way around to Chatham Bay on the other side of Union. This is a big wide bay surrounded by steep wooded hillsides and no houses, only a rustic beach bars and a fishermans shed in sight.
Anchoring in Chatham was lovely compared to Clifton, just pick a spot on the mile wide bay.
We have spent the past couple of days hiking and Adam has done some diving (I am still waiting for my ears to feel 100% so I am in charge of the tender).
We spent the morning walking to Ashton yesterday, Union's other Village (there are only 2). Ashton has remained untouched by tourism completely and it was refreshing to walk through it. Water on the island is not so plentiful as elsewhere – there is still a village well in Ashton which is still fully in use. It was Sunday morning as we walked through the village and lots of people were on their way to church, it was actually really nice walking through the quiet street and hearing the singing from the church carrying across the village. Every single person we passed said hello to us and many asked where we were from and where we were staying. There were chickens, goats and sheep wondering about and vegetable patches. It was strange that Clifton is only a couple of miles away.
This is Ashton's only guesthouse (and grocery store inside)
And this is the mainstreet with the church at the end
The walk across to Ashton was really nice, lots of wildlife – various lizards, Adam spotted a snake sneaking through the undergrowth – not sure what type – I called it the 'Lesser Antillean Brown Snake' but I don't think Adam believed me. Dragon Flies and butterflies plus the biggest 'fly' we have ever seen – sounded like a helicopter you could hear them when they are about – black and iridescent and about 2 inches long body never seen them on any of the other islands maybe some kind of wasp (I took a bad picture as it wouldn't stay still and only had little camera). We also saw a dead possum but I don't think that counts as wildlife really, although I did used to partake in 'dead wildlife spotting' in Gosport when we were there i.e. what was the creature that is floating past when it was alive?
Not as impressive as it was in real life - but this beastie was HUGE
And this is me walking on the new government funded road to Chatham bay - it was a very nice walk, cutting through the woodland is impossible
Last night tonight here I think then to Mayreau for supplies as a 3 hour round trip walking to the nearest shop isn't completely practical. Union is a nice island though – you could walk from one end of the island to the other within a full day.
Lots of Turtles in Chatham bay - they come up to the surface to gulp breathes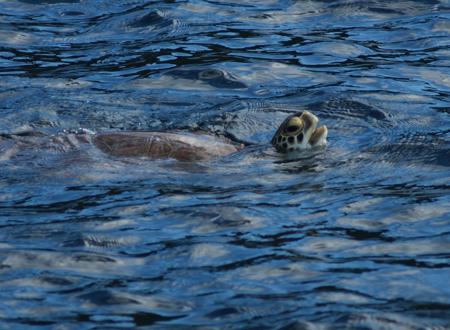 And finally - here's tarmarinds growing. Tamarind trees are all over the place and covered in the delightful looking fruit. I think it tastes about as good as it looks - although I do like tamarind paste in cooking, the 'tamarind balls' we bought had to be fed to the fish.
---