Post Crossing waffle

Adamandsusie
Susie and Adam (both think they are skipper)
Sun 16 Jan 2011 01:10
15:01.11, 14:04.61N 60:57.58W
Looking back at my updates from past couple of weeks all I go on about is waves - but there is nothing but waves out there really so I think that must be excusable. Overall I think we had a good crossing, we thought we could do it otherwise we would never have set off. We were worried about not having enough wind - if there isn't enough wind then it causes real problems as the swell and waves are still there so everything bashes and shakes but you get nowhere . . . and the boat gets shaken to bits (that happened to a few boats that left before us - don't think they were in bits but they didn't have fun), we went south for wind! - and found it - most of the crossing we had average 20 knots, often up to 25 and on the last day (glad it was only the last day) 30 knots for 12 hours which did build up the sea a bit, but we had already had 2 weeks of getting used to waves and getting used to getting sails away quickly.
The last 700 miles or so we also had the fun of the squalls - but you do see them coming in the day and can see them on radar at night so we just got rid of the headsail and went downwind on the main which was fine, only once the autopilot couldn't cope with the waves and so I steered. But - if you can avoid them - then you do as you get completely soaked if they catch you, never seen so much rain before.
Here's some pics of 2 of the squalls that were unmasked a few miles away as dawn arrived - glad that we had missed these bad uns' as they look pretty mean - you don't want to tangle with these.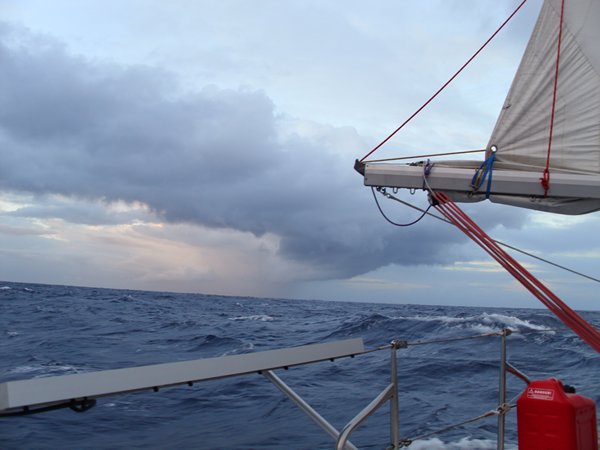 We got our sleeping shifts sorted out and tested on the way to the verde islands and over the past few months have got more relaxed and happier to go to sleep knowing that we can each handle the boat. . . and if things get too hairy then we'll shout. When we first crossed Biscay we were both too worried about the other one to sleep properly wondering if they are ok etc. - by the time we were reaching the end of our atlantic crossing if it was not nice sailing (i.e. last night with 30 knot winds and large-ish waves) then we didn't worry - but when we changed watch it was a case of 'you have it, I'm going to bed!'
I think the most difficult thing about crossing was the knowledge that you are so far from land and that once you leave the African coast, then there isn't really any turning back, the seas downwind were fine - but wouldn't like to have to bash through them upwind. Both of us purposefully didn't think about how far away land was. . just how far we had gone, ticking off the miles. It was great when we had other boats in contact and it was nice that the first 3 days we had John and Alex on Freespirit, usually in sight, but once we lost them we would usually go for 3 or 4 days without seeing any other boats. E-mails from family were also always gratefully received and a nice surprise as home seems a long way away.
We had a few things break - but nothing major, we were lucky we didn't lose the whole mainsail after the webbing at the top went, we took it off the other day in St Lucia and found that a number of the little sliders holding it to the mast had cracked - glad we had fixed it in time to take the strain off them. I was amazed the main didn't rip as we were using an ancient one that we will throw away now we are here - I was watching a patch in it get thinner and thinner every day and hoping it would last til we got here, But - if it had gone then we could have just sailed on the genoa or changed to our new main, it would have just been more effort.
It's not all squalls and drama - Adam below eating '50 degree crossing celebration cake' in the sunshine - which we had for most of the time, and we had magical warm nights of racing along under a bright blanket of stars listening to great tunes on the iPod and watching the phosphorescence light up the waves.
The time actually went pretty quick - now we're here it doesn't feel like we were out there sailing for 2 weeks, although it is nice to have some food which contains fresh veg without having to worry about how we store it and how long it will keep.
Arriving was good but we did have a last minute concern - we saw the Verde Islands from 70 miles away, we got to 15 miles from St Lucia before we could actually see it - I was starting to wonder if the charts were right. At that time though a large group of Dolphins arrived jumping out of the waves which is a good sign - we usually see dolphins when we are not too far from land.
Also noticed that the birds changed from little petrels and gannets in the east and mid atlantic to huge frigate birds and tropical looking things as we got nearer to the caribbean. We ended up having to give sea burials to dead flying fish pretty much every day. . . when we came to anchor in St Lucia I opened the anchor locker and found 4 - not sure how they got in there but at least they were fresh rather than 2 week old dead fish.
Rodney Bay in St Lucia is about the easiest place to come into - huge bay, anchor anywere virtually, which is pretty much why we picked it. We spent the first couple of nights anchored out in the bay . . here was our view. . .lots of boats!
Then picked our moment to dash into the busy marina when we had sussed out a space, we haven't had much time to relax or see the island yet - first priority was to sleep and do nothing when we arrived, then today we have made a cover for the boat to keep the sun off - it's too hot here to have no shade. Here's a photo of some woman modelling our new 'boom tent' and hatch mossie nets which we made to get our boat sorted out for tropical climates (we're getting into this sewing thing now)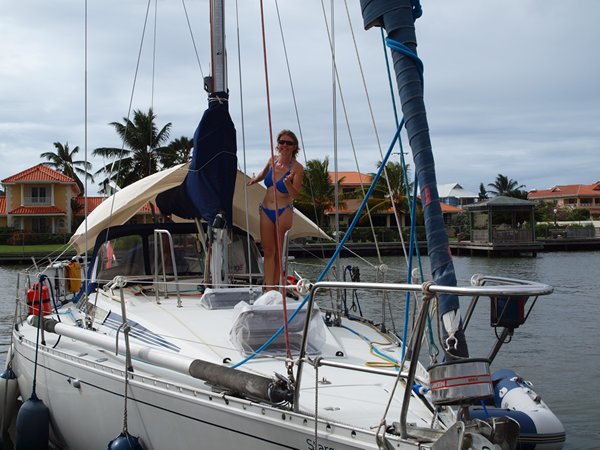 Rodney Bay lagoon which the marina is in is OK - it's quite big but you can take the dinghy to the shops etc which is pretty handy - evening view across the lagoon from our berth below, amazingly there are no tenders on this pic - usually there are tenders zooming back and forth all day to the bars, shops etc. The people we have met are all really friendly and it seems quite a nice place, the only strange thing is that we don't know any boats here yet - we got to know lots of boats in Fuertaventura who all went to Gran Canaria then the Verde Islands in a bit of a pack - it's strange to be somewhere new and not recognise any boats, but that will change - enjoy the peace!
We now have some sprucing up to do on the boat after her epic voyage which will take us a few more days . . then we'll set off to discover the rest of St Lucia and the Windward Islands. . .. .not yet sure of the order but deciding that is half the fun.
---