More BVI's

Adamandsusie
Susie and Adam (both think they are skipper)
Thu 19 Apr 2012 13:28
So far we're having a great time in the BVI's, it has definitely grown on us.
We've been across to Virgin Gorda to Spanish town which is the main settlement and to the Gorda Sound which is an area surrounded by reefs and little islands off the north of Virgin Gorda and forms an almost fully enclosed area. Spanish 'Town' is a bit optimistic - maybe Spanish Village as it was really quiet there, in fact, everywhere ashore is pretty quiet. We anchored outside of the harbour for the night and went ashore in the dingy for food etc.
In the Gorda sound is a place called 'Bitter End' - a couple of pubs, a yacht club and a few shops etc. which was all very pretty, but we didn't stay up there as we had diving to do! Instead we went out to a group of little uninhabited islands for the day known as 'The Dogs' - odd names - Seal Dogs, Great Dog and my favourite 'George Dog'. You can't anchor there as it is national park, but there are buoys you can pick up for diving so we went and did a dive off the attractive sounding 'cockroach island', just next to it is a pinnacle of rock which stops a few metres short of the surface. It was all a bit murky for diving but the dive we did was made by seeing a couple of eagle rays which are very beautiful and you don't see them very often, they are relatively big and they fly through the water rather than sitting on the bottom so that made our day. You can't stay on the dive moorings overnight so that evening we went back to Deadmans Bay which is on the edge of Peter island. Dived a site off 'Deadchest island' the next day where we saw a couple more sharks and lots of fish as the dive went around canyons, arches and gullies in the rocks.
At the weekend the wind was due to come back so we got out of Deadmans Bay in the evening and went for shelter around the corner, not sure where all the charter boats went - I suspect they were all in the bigger bays on mooring buoys, but we found a perfect place in the lee of a hill on the edge of Great Harbour on Peter island. The wind howled down the channel outside for the next 2 days and we just had a gentle breeze where we were and very few boats. It was idyllic - clear water, a small reef running along the shoreline, forested hillsides with Pelicans sitting in the trees, if we hadn't run out of food I think we would have stayed another few days as I could just get off the boat and dive along the shoreline. Amazing to see the boats battling there way up and down the channel outside while we floated about on the anchor in no wind at all. I spent a few hours playing with my camera in a couple of metres of water and was amazed by the amount of life I saw just paddling about slowly and watching. Went ashore and walked through to the next Bay for a wander, the only thing on Peter island is a small and very nice looking resort - they can't have been full though as we only saw about 10 people in total that day and they were all confined to the nicely raked Hotel Beach.
Reluctantly we left our haven today, the wind has died down again to a nice level so we've come back to Road Town on Tortola to restock our empty fridge and cupboards. So far we've really enjoyed our time here, there are so many bays and little islands to explore and the reefs and fish are obviously doing well with the protection they are getting. Maybe they're doing too well - Adam decided to try and scrub 'beard' the boat has started to grow off the waterline - he had to give up as the big barracuda that had spent about 2 days sitting under our boat became very interested in the activity. I tried to take a photo of it on returning from my dive and it decided came over to investigate the flash on the camera. . . so I stopped taking pictures of it !)
Adam on 'Main Street' in Road Town, Tortola. This is one of the nice old streets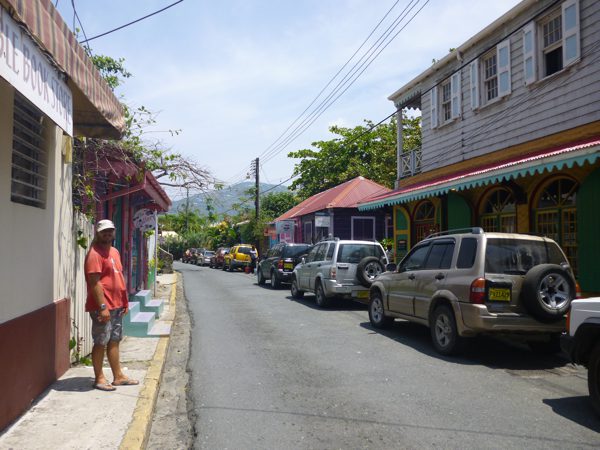 View from the Anchorage in Deadman's Bay, Peter Island over to DeadChest Island on the left. I swam to the beach in the photo from the boat one day and decided to walk off the lovely soft sand to look at what was beyond . . . one foot went off the sand onto the grass and was instantly impaled some kind of prickly burr from a plant. . so I picked up that foot to pull the offending thorn-age out of it and put the other foot down on another one. I got less than a metre from the sand and ended up with 3 burrs embedded in feet and the silence was broken with cursing and swearing as I tried to get back to the sand with no more injuries and putting minimal foot down on the floor . You have the image of beautiful caribbean islands, walking on the soft sand, not wearing shoes for weeks on end - no, never set foot anywhere other than sand without appropriate foot protection there are far too many things with thorns.
Adam at the Bitter End pub in Bitter End, Gorda Sound
A fast flying Eagle Ray at the Dog's islands, a pair of them swam past us - they are about a metre across but their tails go on and on like a long whip about 6 feet long. They're amazing creatures to see.
Jawfish living in the sand under our boat in Great Harbour, Peter Island - I love these, they hide in holes in the sand that they dig and they disappear into them tail first when you approach with just their eyes peeping out, but if you wait then it doesn't take them long to get brave and they'll go back to coming out of their holes to eat passing bits of food in the water etc. These ones are busy grabbing little creatures out of the water. I was practicing with my flash so have tons of pictures of jawfish in different poses and at various levels of illumination, The one in the foreground appears to have a small beer belly complete with belly button. At least they didn't seem to mind being taken pictures of - well, it didn't stop them grabbing food anyway.
---