Back to Sanxenxo

Adamandsusie
Susie and Adam (both think they are skipper)
Tue 24 Aug 2010 14:35
24:08.10
Yesterday you will be pleased to know that it RAINED - pretty much all day - fog and rain - there had to be a reason the hills are still green.
We didn't do a lot other than read books and listen to the howling wind and rain. We had planned to go to the Isle of Ons which is a small island a few miles away and anchor and have a walk around the island but we didn't fancy going in howling wind and rain.
We did venture into town for some food - Padron Peppers, which I thought were chilies as they look like whole, fried green chili's - but actually they are peppers so not really hot at all. I had some in a tapas bar and have bought myself a big bag of them from the supermarket now I know what they are (I wondered before why everywhere sold huge bags of chili's - why would anyone need so many Chili's?). We also made a fatal mistake of ordering food without specifying 'no jamon' - ham is in everything - in cheese, on margherita pizza's and also we found out in Spanish Omlette . . . so next time I will say 'no jamon' before every single food order (including ice cream). We also sampled the local cakes which are very nice - big baked cheesecakes with nuts on top ( and no jamon).
I also got a chance to organise my photo's - so here are a couple which we didn't get a chance to put up before due to no broadband internet. . .. . I also put some photo's onto the Combarro update from the other day.
Adam, victorious in Ares after successfully rigging our spinnaker pole (so we can pole out or Genoa) - we have only had the chance to test it once since though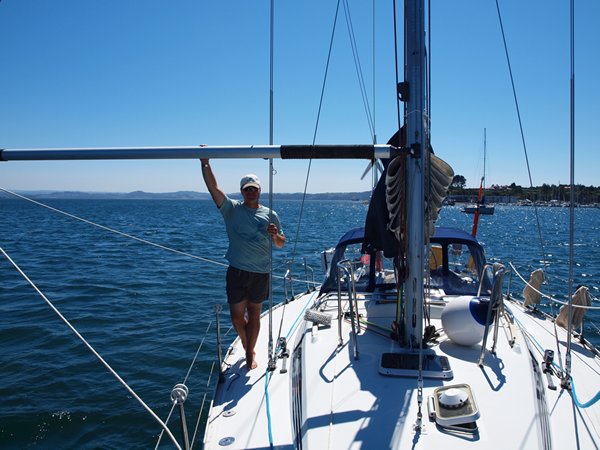 Ares anchorage by night. . . . ..
Adam in Espasante with the steep hill in the background - this was the place that looked most like Scotland and indeed had most midges
and some local farmer wearing a traditional farming hat who we let steer the boat for a bit (I am banned from wearing the hat anywhere other than on the boat)
Today were back in Sanxenxo - the post we requested from the UK has turned up but unfortunately no new VHF radio as yet therefore we will be here til Thurs I think so we can get it and fit it. Still we're in the Marina for a change so a good chance to get the water tanks, fuel etc all filled up and find the laundrette! It is roasting hot here again today after yesterday's downpour. The town is OK with plenty of shops to wander around - beach is very busy, it's the one with the pedaloes - perhaps we should hire one
---