'Land was created to provide a place for boats to visit'

Southern Princess
John & Irene Hunt
Thu 3 Jul 2008 19:14
Musket Cove, Malolo Lai Lai, Fiji 17:47S 177:10E
Another quote from my mate Brian Molloy in the UK. Thanks!
Bula,
Arrived Lautoka June 19th to check in. Made it through Navula Passage in the fringing reef at 06:00 and anchored off Lautoka by 09:00 and then we started the marathon check in process. The Fijians haven't improved since we were here 7 years ago, they have gotten worse. Forms to fill in and more forms to fill in! I even needed to fill in a form to go from Musket Cove, 12nm to Vuda Point Marina to have some work done. Vuda Point is part way between Lautoka and Musket Cove. Talk about bureaucratic nonsense!!! Also we were 'inspected' by an official. He combed through the DVD's looking, he claimed, for pornography; he was disappointed. He then asked for a 'present' and left with a new bottle of Jack Daniels and a half bottle of rum! JD in the shops is F$95 a bottle so he was well pleased.
Musket Cove is as we remember it. A delightful place and well worth a visit or in our case a return visit. The staff are fantastic, attentive and all the women just want to cuddle the two grand children to death. Gabby, Richard together with Hudson and Cooper have a villa ashore, which gives them privacy and a safe environment for the two kids.
Sue Donovan, off Storyteller has her daughter Bridget, son-in-law Pete and two grandchildren Hunter & Tamsin also staying at a villa. Hudson & Hunter have become great mates (6 months apart) which has been great.
There is a beaut pool here with walk in end for children and the two H's spend hours diving for rings on the bottom and just getting as wrinkled as prunes. Gabby & Richard have friends on Malolo Island Resort, so we visited with Guy & Michelle there one day from the yacht. They have two children, Hannah & Sienna. Hudson and Hannah go to day care together in Auckland.
We can only get in and out of Musket Cove during high tide so on Tuesday, the day we visited Malolo Resort, we exited the marina, and spent the night on a mooring. Departed the next morning at dawn for Vuda Point to be hauled out for new anti foul. All went well and Brian Smith and his team headed by foreman Willie Amoe did a great job. They had 24 hours to do the work and work they did. On the Wednesday they completed the anti foul and half the hull 'cut & polish' by 18:00. They worked until they could no longer see and then on Thursday morning they returned at 06:30, just on day light to finish the rest for a 10:00 relaunch. The boat looked like a new pin. It just gleamed. There was a small hiccup on the relaunch where some anitfoul was detached from the hull with the strops from the travel lift, however they provided some thinners, antifoul and a disposable brush and we tidied it up here at Musket Cove. Had to lean the yacht over to get at the patchy work. Took a spinnaker halyard down the dock with an extension line on it and tied it off to a cleat. Then took a spring line from the opposite of the yacht down the dock to brace it sideways and then hooked up the big winch and ground the yacht over onto its side a ways. Exposed all the working area and was horrified to find corrugated cardboard stuck to the yacht all the way down to the centre line.
Last week we watched The All Blacks & The Lions have a go and then last night The Wallaby's beat France in an untidy game. It is good to get back to television in the right time zone so that the rugby is easier to see. Fiji play Australia A today sometime and if I am not looking after grandchildren then we will watch that as well.
Missed it!
Cooper turns 1 year old on Tuesday so we celebrated with a small party on Saturday. Hunter & Tamsin depart Musket Cove Sunday so we celebrated while they where still here.
Sad day Monday, Gabby, Rich & kids departed for a couple of days at the Radisson at Denerau before heading back to cold NZ. Apparently there has been so much snow between Taupo and Wellington, that the Great South Road has been closed and the only way is through New Plymouth. Brrrrrrrrrrrrrr! Mind you we must be acclimatising as we are feeling cold here in Fiji with a stiff sou'easter blowing.
The World ARC fleet is starting to gather at Musket Cove. The rendezvous date is July 3rd and by that date all 35 of us should be here along the dock. Could be a great party coming up. We are going to miss a lot of the people we have met when we leave the WARC in Port Santo on the 20th of this month.
Irene, Cooper Hunt Turner & JH just prior to party.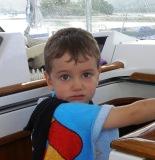 Cooper is always smiling, Hudson just loves the yacht, Father & Son Mother & Son
---