Waiting for Godo!

Southern Princess
John & Irene Hunt
Sat 17 May 2008 18:51
Well waiting for parts anyway. Both Storyteller & Southern Princess stripped the drive belt in our genoa furlers and it has been a saga getting new ones. Trying to play the time zones we contacted Kiwi Yachting in Auckland as they are the Facnor agents for NZ. This was Monday morning their time. Placed the order so that they could contact France at 20:00 NZ time which made it 0900 in France Monday morning. Wrong, France was on holiday Monday so we lost a day. France couldn't supply the parts and they would have to order them from the manufacturer Bamar in Bologna Italy. So Tuesday we started all over again in Italy and it took from Tuesday to Friday for Italy to perform and they didn't leave there until 16:00 hours on Friday 16th. I have just checked DHL tracking on the net and it left Leipzig, Germany at 03:19 on the 17th (we are still the 16th here so we gain a bit of time!)
The WARC start has been postponed Sunday as we are expecting a 25-30 knot storm to go through with gusts to 50knots so tonight we are being advised by a local weatherman as to where we can anchor Sunday night and be a bit safe. Problem here is the lagoon is deep and we have to anchor in 20 to 25 metres of water which means the scope is not very good at only 3:1. Anyway it means that we won't be too far behind the fleet after waiting for our parts.
Once we get moving again, I don't envisage WIFI for some time so you will have to put up with the daily few words however I hope you have enjoyed the pictures and I have found a few more shots you might enjoy. Half of these came from Lorraine's camera so credit to her.
Love to all
John & Irene
Craig making up to the yellow fin tuna he had just caught. Lorraine wearing her engagement present from Irene & I. She and Craig marry later this year.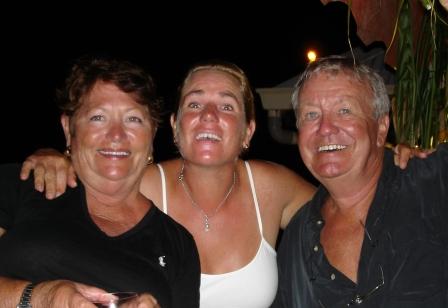 Irene, Rosie (off Keoloha) & self at Tahiti Pearl Regatta prize giving. Rosie, Craig, Rainy & Chip at the Bora Bora Pearl Hotel resort.
This Chief welcomed all the regatta participants to Bora Bora with a fire ceremony. Great shot with a most of the fleet behind us!!
They all fell into a hole and we, the lucky one, managed to sail right around them with a few knots of breeze. Boy these Tahitians love their fire dancing.
Chip (this one is for Karen & Dorrit) Shin & Hugh off Blue Flyer and Roger off Branec IV
Mahi Mahi at the Tahiti Pearl Regatta Prize Giving. It was fabulous. This one's for you Craig as you battle your way to work in chilly old NZ.
---