St Lucia 22/12/07

Southern Princess
John & Irene Hunt
Sat 22 Dec 2007 19:46
Last night was the ARC Prize Giving and we managed a couple of mentions.
One mention we didn't get was a placing in our own class! The penalty for using the engine was the total engine hours multiplied by 1.8 so the 70 engine hours we logged turned into a 5.25 day penalty which took us well out of the placings but we got here in one piece and that was the important thing.
We did however win 'The Philip Hitchcock Trophy' for the best prepared yacht, particularly in the respect to safety equipment and knowledge of its use. And Irene won a special prize for the BEST BASIL PLANT to make it across the Atlantic. They both even got a mention on the ARC web site!
The last few days in St Lucia have been hectic and I am need of a liver transplant. I really don't know how I keep up all this jolliness! Justin left for Trinidad a couple of days ago, then Puerto Rico and back to Australia by the 27th.
Samantha & Megan arrive tonight and tomorrow we head off for Martinique, Dominica, Guadeloupe & English Harbour, Antigua for New Years Eve.

Love to every one and a very Merry Christmas and a GREAT New Year.
John & Irene
And we even have our own DINGHY dock a bit on the dingy side.
Castries, the capital of St Lucia and the 'hot lines' to the local cabs!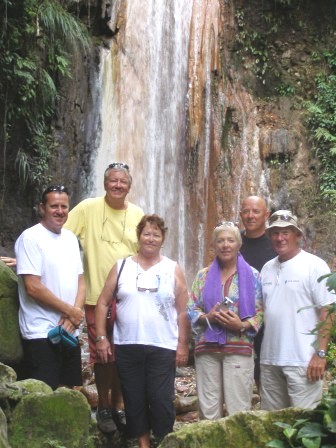 Justin, JH, Irene & Sue, Jerry & John off Swagman
the winners of Class A ARC 2007. John & Sue, while
they live in the UK spent many years in Perth WA,
hence the Aussie name for their Hanse 46 a fast yacht.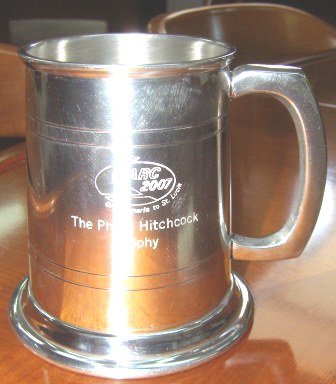 The Phillip Hitchcock Trophy.
The Biggest Basil Plant to make it across the pond - Irene Hunt's
---