Question Time

Southern Princess
John & Irene Hunt
Tue 26 Feb 2008 17:07
Noon 26th. 01:34S 85:32W
No one got the answer to the question I posed yesterday. The answer is: Southern most = Hawaii, North, East and West is Alaska. The Rat Islands at the end of the Aleutian chain lie over 180 degrees and are in the eastern hemisphere.
Today's question: There are 7 capital cities in the world which start with the letter 'R'. Name them and the country.
Motored all last night in a glassy sea accompanied by half a dozen Swallow Tailed Gulls. They flew guard all night and at dawn departed. Quite eerie really with them quietly chattering to themselves as they ducked and weaved around the mast and the lights.
At dawn the wind filled in a little from the SSE and we managed 7 knots for a short period motor sailing. Thank goodness we carry lots of fuel otherwise it would be a very slow trip. Some yachts, forced to sail are reporting 1 knot SOG (speed over the ground).
No fish as yet. Our good pink and white feathered lure had been beaten up so much by strikes that it has been retired and the new green one does not attract much attention.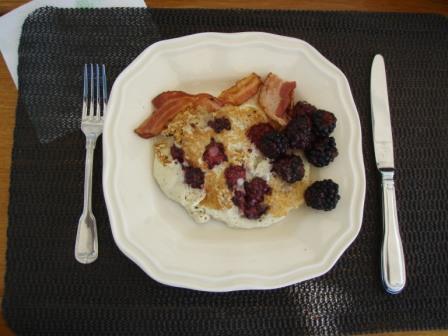 Still no luck with the fish. Breakfast today; blackberry pancakes, crispy
bacon and maple syrup.
This is the oil slick we had to put up with in Puerto Lucia Yacht Club.
Raw crude oil leaching out of an adjacent oil field.
---