Sadly departing Croatia

Southern Princess
John & Irene Hunt
Sat 28 Jul 2007 09:19
Hrvatska to Italia Brindisi 40:39.25N 18:00.01E
While Patricia Molloy was with us we were discussing 'Wind in the Willows' by Kenneth Grahame and when she returned home, looked up the proper quote concerning Rat & Mole and messing about in boats. Thank you Patricia.
An E H Shepard illustration
Wind in the Willows
Ratty said to Mole

"Believe me, my young friend, there is nothing - absolutely nothing - half so much worth doing as simply messing about in boats. Simply messing, messing - about - in - boats. or with boats........"
Well this day weren't in boats we were up the creek at Krka and the Skradin Falls.
Patricia, Irene, Jacques, Brian & Jo-Anne
I mentioned dinner with John & Amanda Cushen off Phoenix in Trogir. Great to see them again as we had spent 5 days with them on Stewart Island, New Zealand last February 2007. They were in Trogir to pick up a charter and then off again to Montenegro while we headed for Hvar.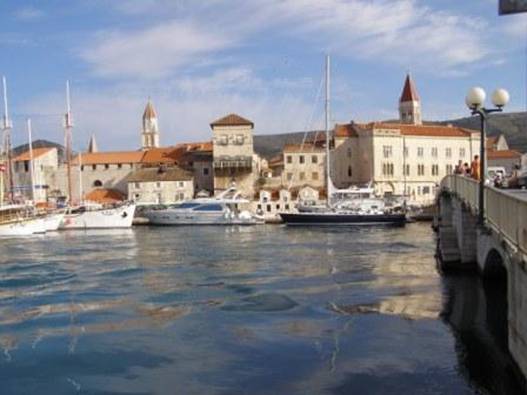 This is once again at Trogir with Southern Princess moored on the outside of Phoenix close by the bridge over the canal.
In times past this bridge used to open twice a day so that water craft could pass through,
however recently they discontinued the service because of road traffic delays
and now we have to spend two hours travelling around the island to get to Split.
Irene and I reluctantly decided to forgo our trip to Venice, it would have taken 3 days to get there and 3 to get back and we decided that the time could be better spent exploring places in Italy we had not been to before. I hope we made the right decision as the photomontage below is one of my favourites and so typically Venice.
30th June 2007 we parted company with John and Amanda and sadly we won't cross paths with them for another couple of years. Spent the morning in Trogir at the markets stocking up and even though we had moored on the outside of Phoenix the marinara's charged us 510 Kuna for the privilege! Bloody hell that's expensive for no water or electricity! Motored around to Split to fill the fuel tanks before heading to Hvar and a planned meeting with Italo & Carmen D'arrigo off 'Emocion' and Dave & Joanne George off 'Mintaka'. We first met Italo & Carmen in Musket Cove, Fiji in 2001 and have had them at our home in Sydney on two occasions and met them again last year in Turkey in company with Dave & Joanne. Hvar Harbour was over crowed and we repaired to UVALA STIPANSKA on OTTO MARINKOVAC and as luck would have it we were the only 3 yachts in the bay. Fantastic! We had a pot luck dinner on Southern Princess and watched the full moon rise. Beautiful!
1st July 2007 COOPER HUNT TURNER was born at 11:44 hours New Zealand time.
That afternoon we all went ashore and had a BBQ amongst the rocks.
JH, Carmen, Italo, David, Joanne & Irene surrounded by lime stone millions of years old.
It was the closest we could find to a beach!
Mintaka & Southern Princess had a big booking swapping session. One of the things we miss is easy access to English written books so every chance we get there is a swap meet. Read some interesting stuff and a lot of rubbish as well. Sadly we said goodbye to Italo, Carmen and Dave & Joanne as we won't be seeing them again for awhile. We have made a tentative date with Carmen & Italo to visit them in Venezuela in 2010 and maybe cruise the Louisiades with Mintaka sometime after that.
The 2nd of July saw us checking out in Dubrovnik and sadly saying good bye to Croatia. We sincerely enjoyed our stay here, the people were gracious and kindly, the food of a good standard and once we were instructed properly the wines were OK.
The next morning early we departed for Brindisi but the seas state wasn't kindly and we headed for CAVTAT to await better weather. I spent a productive day on the ARC skipper's book and started the many check lists required to get ready for our Atlantic crossing. The wind blew hard all day but moderated in the evening around 17:00.
Just before dark I glanced aloft to check that the mast head anchor light was on and noticed that the VHF ariel was waving in the breeze so Irene hauled me aloft and with my trusty miners light on my head I managed to get it done up properly so that we could leave early tomorrow.
July 4th, 2007 the log reads:
04:30 departed for Brindisi
19:30 arrived Brindisi and tied up at the town wall.
We will miss Croatia.
---