And the fun goes on!

Southern Princess
John & Irene Hunt
Mon 5 May 2008 21:00
16:43S 151:02W
Since Moorea we spent 12 days in Marina Taina about 7klms outside Papeete. Had to get some work done and we had an extremely capable and keen agent working for us to chase everything up. Tahiti is the most expensive place we have been to date. 20,000 CFP (around A$280.00) to get the bottom scrubbed by a diver and it wasn't that dirty as I have done it myself a few weeks earlier. Should have done it myself again! Small sail repair worth about $85 in Oz cost over $200 here and it goes on. Went to the supermarket and had 2 1/2 trolley loads (no booze or anything expensive except meat) and only small change out of A$2000.00!
Another strange thing Papeete closes at 4:30 pm. The first Saturday night we were there, John Gilder, Irene & I went to town at 6:00pm to have a couple of drinks in a local bar and dinner somewhere! Place was closed! And when I say closed, it is closed as they roll down heavy duty metal garage door type shutters in front of every shop and the place looks like a set of a Mad Max movie! Scary stuff indeed with lots of graffiti everywhere.
After Marina Taina the WARC fleet gathered at the Town Marina on the waterfront of Papeete. The local tourist board put on a fun afternoon at the dock, sailing canoes, and three 6 man canoes, two delightful young ladies front and back and yachties in the four middle seats. We was nobbled! Got to the turning mark well in front of everyone else, the other two canoes cut the corner and we came second as we couldn't catch the lead boat. We think it was their turn to win.
The tourist board also put on a full day island tour including a superb lunch in a restaurant overhanging the lagoon.
After Tahiti we went back to Moorea for two nights and we are now in Huahine Island for 3 days before heading off to Raiatea and the Tahiti Peal Regatta.
John & Sue off Storyteller have friends Trevor & Jan Flett (I think that's how you spell it) and Trevor took the one of the photos below as did Lorraine.
Maltese Falcon under full sail off Moorea and moored in Papeete Harbour. The night they arrived, I think the last of the charters had left as the crew had a wild party ending up with several of them being thrown overboard and it is a fair height from gunnel to water. She is a beautiful ship. It only took 5 minutes to go from full sail to no sails. Each sail between the yards is gathered at the centre line and pulled into the mast for furling.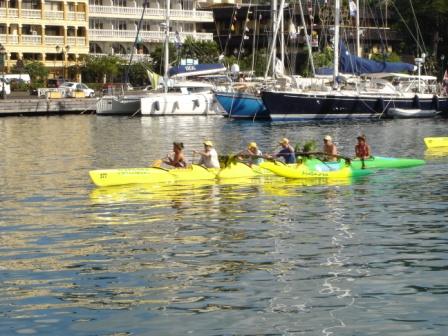 That's us coming second! Craig in the second seat, Lorraine, Chip and Self with another lovely steering. Just before the canoe race JH, Irene, Lorraine, Craig (Lorraine's fiancé) and Chip our friend from the USA. Lorraine and Chip stay with us to Niue while Craig is only with us from three weeks as he has a business in Auckland working on super-yachts waiting for him. Craig is also a sailmaker and keen racer so we have a good crew for the regatta.
Chip had his 26th birthday on board and then we all went out to celebrate. The boys have new Tahiti shirts.
This guy has found an easy way to trundle the garbage skip. Just drive around the dock holding it alongside the car. In Moorea in Opunohu Bay they have a large sailing school. Mostly Optimists and Hobie Cats but this two master they use to familiarise the kids with sailing prior to training starting. It sailed really well and was seen on several occasions outside the lagoon sailing in the ocean.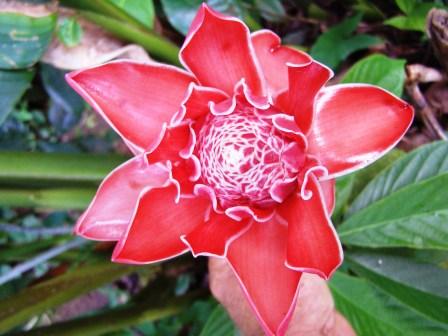 Tahiti and all the islands are just a blaze of colour. The flowers are amazing.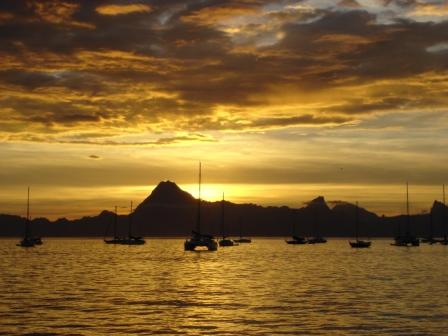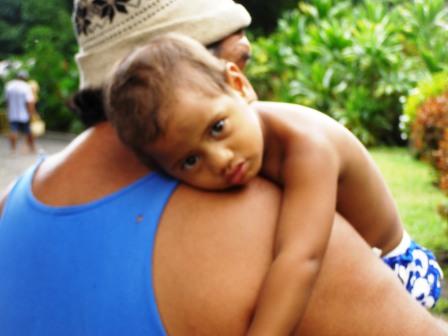 The sun sinking over Moorea (Loraine's photo). Our day trip around the island was on a Sunday and this is our driver who had his wife and son with him. The boy is just bored silly and really wanted to be somewhere else.
Tahiti is just full of beautiful women. Miss Mahina was modelling for a photographer at Venus Point and when we arrived she had another 40 blokes all with cameras taking her picture. The two on the left were both ex Miss Tahiti and now work for the Tahiti Pearl Board. The necklace on the right was for sale at US$10,000 and the one on left is one long continuous string which can be worn in many ways. Both delightful women who talked to us for and hour or so at the cocktail party the Board sponsored for the WARC. Later that night I saw one of them walking home still wearing the necklace so she must of felt safe to do so.
When Captain Cook travelled to Tahiti for the first time it was to observe the transit of Venus across the sun and the place where this took place is Venus Point. The light house was built in 1876 to commemorate the event. The one on the left is a Tiki's bum!
Trevor Flett took this photo of Irene. We love it.
---