After Italy & where did we go

Southern Princess
John & Irene Hunt
Fri 14 Sep 2007 16:28
After Italy & where did we go! Valencia 39:28.0N 0:18.5W
Jeez have you ever had a nag! My mate Helen Campbell
has been nagging about no up dates! I don't know? Well here we go again.
Where did we leave off last time? Lavagna I think it was? Well Roberto & Stephano did a great job on the sails, I think! We will discover later when I try to set them. (jumping ahead, I tried to set the MPS today (23/8 in Valencia and the bloody thing got away from me and tore the skin off both hands but more about that later).
Lavagna – apart from the balcony everything One of the windows is real.
else is painted on.
28th July we spent the day futzing around town and had a fun time at the markets buying the makings for dinner on Sedna. Terry was doing the cooking and he & Irene organised a great mussel dish done in onions and white wine. We also met Lyn Micheletti from Melbourne who is working on a 100' motor yacht called IPSUM, berthed at San Remo. She and Chrissie used to play underwater hockey together.
29th July I dropped Terry & Chrissie ashore for their trip to Florence. Won't see them again until either the Canaries or the Caribbean.
I do keep hearing from them though! Especially when he wants to have a skite about the fish he is catching. I have dragged a line or two for thousand's of miles and apart from a couple of tuna-mackerel caught last year, absolutely nothing, nada, nix, zilch etc. But what does Terry do???
Don't you just hate it?
Around lunch time Irene and I departed for Portofino but there was no room and we finally anchored in Santa Margherita, just east along the coast. What a fine town and very proud with palm tree illuminations at night, a brass band and a street parade with a Madonna etc to the local cathedral as it was Sunday night.
I have been using the anchor windlass not only to pull the anchor up and down but by loosening the gypsy, I can also use it to pull in bow lines when we are in a marina. When this happens the anchor is in the stowed position on the bow and it has a locking device which is supposed to hold the anchor in the stowed position. This doesn't always work! When we cast off in Lavagna, it was in a hurry and I had forgotten to tighten the gypsy. Just off Portofino, Irene went forward to take off the locking device and because I hadn't tightened the gypsy, the 100lb anchor and 80m of ½ " chain started roaring over the bow and heading for the bottom! The bitter end of the chain is secured to the inside of the yacht and as twinkle toes here dashed forward I had a mental picture of the chain coming to the bitter end and then ripping the bow off the boat. Phew made it in time and slowed the whole lot down and then stopped it. Here we are, just off Portofino with the anchor and about 70m of chain hanging straight down! The poor old anchor winch really struggled under the weight to get it back up again. Oh & Irene suffered no injury thank goodness.
The next day saw us up at 06:00 and under way 15 minutes later heading for San Remo where we arrived 10 hours later, but not with out some drama. The GPS failed so I spent the day plotting positions on the electronic chart from data obtained from my emergency hand held GPS. It was a good exercise and worked OK and we will need to find a Raymarine techo.
Berthed in the marina hosed the salt off and shammied the yacht and Lyn came for dinner.
31/7/07. Today is our 42nd wedding anniversary and here we are working hard. I tried to fix the orange pump on the aft cabin air-conditioning for the umpteenth time and failed miserably. We now have the condensate hose stuck in the top of a 5 litre plastic bottle and I get to empty it manually!
Next day we replaced the GPS antenna and it seems to working ok. Another €400, who said boating, was cheap?
Around 14:00 we departed for Monaco and on the way passed; 2 X pink & yellow wading pools, bright pink sun lounge, pale blue kids dinghy, yellow blow up canoe, a green blow up alligator, two sets of kids floaty arm bands, a bright green turtle, some more kids floaties, pink sit-in floaty car with steering wheel, a pink row boat, some more green arm floaties and a white plastic blow up sun lounge!
You can imagine the scene, "If you kids don't stop acting up and behave yourselves, the whole bloody lot goes over the side"! I guess they didn't behave themselves!
No room at Fontvielle Marina at Monaco so we anchored out in Rade de Villefranche.
At this stage we are moving daily to catch up on our time table to Gibraltar and we wanted to stop in at Antibes to have the French Thomson washing machine looked at. It won't complete a cycle, runs for about 8 minutes then stops until you press the start button again. This can happen a few times per wash cycle and the Princess is having none of it! So much for France in August, we couldn't get a techo to look at it until the 10th at the earliest; so the next morning pushed off for Ile Du Levanto and island off Cap Benat where we anchored out in Port de L'Avis before getting up at 04:00 for the big day crossing the Golfe Du Lion, renown for it's bad weather and storms roaring in from the north. After a big day of over 18 hours we arrived in Spain and anchored out in Cadaques at 22:20 hours. Absolutely knackered!
5th August we departed at 06:00 and arrived at Barcelona and berthed at Marina Port Vell at 17:00 hours.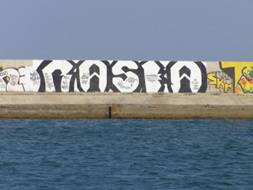 Arriving in Barcelona the graffiti said it all! Someone didn't want us there.
Couldn't fuel up as the shore storage tanks were empty and we had to wait until the next day for a fuel delivery.
While waiting around for the fuel delivery we managed to find bread and an internet point to catch up on some news. Next berth to us was Pamela Stephenson's (Billy Connolly's wife) rather magnificent yacht 'Takapuna' named after a suburb of Auckland, New Zealand I think. Takapuna was bought and refurbished in Auckland and project managed by my cousin Robert Brookes for Pamela before it started on its world travels.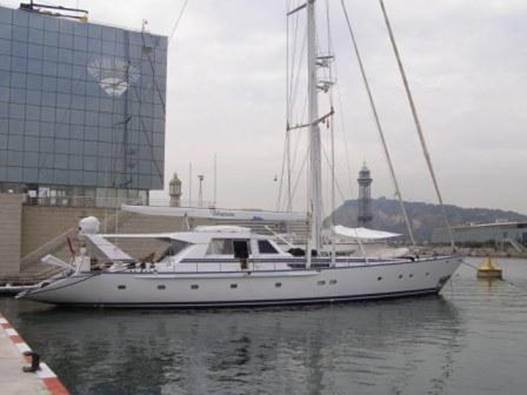 Takapuna moored in Barcelona
Also of interest was a French flagged yacht called 'Akaroa' and I asked the Frenchman where he had gotten the name from. His reply was "Akaroa is a small town in New Zealand settled by my ancestors and one of the main streets is named for my grandfather." Irene & I together with Sue Donovan and John Glider off Storyteller were in Akaroa this past February so I listened to his story with interest. It's a small world indeed!
8th August we arrived at the America's Cup Marina at Valencia. Talk about deserted! Only 30 boats berthed there and four of them were the Guardia. Miles from anywhere and you need a water bottle and a compass to find the front gates.
Sportnautica is the local Bénéteau agent and has luck would have it, the Valencia branch is owned by Sportnautica in Denia. A couple of years back, Jamie Miguel at Denia had really looked after us when we need some work done so I telephoned Jamie and he put me in touch with Ana at Valencia of if she wasn't available the Jorge (pronounced 'Horgay'). Ana is absolutely gorgeous, not only a delectable package of eye candy, she really went out of her way to help line up all the technical people we required. We had arrived in Valencia with the 12v alternator not working, the microwave not working and still with washing machine problems. Ana must have spent and hour or so on the internet tracking down the Whirlpool and Thomson people. Jamie had directed us to the right person to fix the alternator but the biggest problem was that Spain was on holidays, after all it is August.
Irene and I were going away for a couple of weeks touring and Ana lined up the alternator people to attend to the alternator while we were away and the others were booked for when we got back to the boat.
The Old Man and the Sea.
Some have asked about the entries which are headed 'Position with a name and lat & lon' this is so I get a pin put in the Google earth map. All I am doing is reporting a position. JH
---