St Lucia Up Date

Southern Princess
John & Irene Hunt
Tue 18 Dec 2007 22:06
The last few hours run into St Lucia was fast. We had a broad front bearing down on us which was being generated by Tropical Storm Olga 370 nm off the east end of Puerto Rico. It was raining buckets and the picture of us on the finish line showed a genoa with 2 reefs, half a main and miserable skies.
The first days here it rained non stop and since then it has poured down every few hours. Not the Caribbean as I remember it.
Been busy fixing things:
The electric roller furler for the genoa started spewing roller bearings all over the deck during the last week of the crossing and then we started to find small grindings of aluminium in the scuppers. We have rebuilt it and managed to find the right ball bearings and Justin and I put them in one by one to a smear of grease, a total of 71 of them and then held our breath as we started screwing things together again. Seems to have worked OK so we have crossed this off the list.
The main boom had three folds in it and a slight bend. The Stainless Steel Indian didn't manage to straighten it but has welded large patches to one side to strengthen. Hope it is going to work OK?
Justin rebuilt all the reinforcing around the hydraulic ram for the steering. It was quite well made originally with 25mm plywood carrying a lot of the load and where a horizontal piece was supported by a vertical they had gone to the trouble of using a heavy epoxy coving to join. Great! except that they applied it over urethane varnish and the varnish just peeled off leaving no adhesion. All this has been remedied. The main worry we now have is the amount of play in the rudder stock although we are assured that it is "normal"!
The extra genoa we were flying from the bow sprit placed a lot of upwards pressure on the stem head fitting which started to peel away from the yacht. Not much we could do at sea but relatively easy to fix ashore. The 6 bolts holding it down had no nylocks and most of the problem was the nuts bolts rattling loose. All have nylocks now and the centre one we have attached to one of the through bolts holding the forestay. We had a special stainless bracket made for the job.
The radar dome started to come apart, looks like it has been thumped by a flogging genoa. Justin managed to glue it all back together again.
Our 12v battery bank was not up to the job. Four summers in the Med motor sailing most places kept the batteries charged up. Once we stared sailing seriously we found that the instruments, particularly the chart plotters really chewed up the amps. Around 7.5 amps per hour and with only 55 amps useable we did not have enough to last even 12 hours so for the crossing we only turned on the chart plotter now and again. Going to have 3 X 105 amp AGM batteries installed giving us 315 amps or around 160 amps useable enough for nearly 24 hours. But that means we need a new battery charger which is on order and the whole lot should be installed next week.
The social scene has been hectic and we have eaten out every night since being here. An early night would be a blessing. Wine in restaurants is expensive! A bottle of Monkey Bay Sauvignon Blanc from Marlborough is $50ec (about A$20) in a wine shop but at dinner last night we paid $212ec (about A$83) a bottle. Whew!
A few pictures to see how life is going along.
Avelyn, Ian, Bernie, Derek, Irene, John & Sue at Doolittle's Marigot Bay
Shereleene at Doolittle's. The drinks divine & potent. It's the Rum Man!
Just waiting for dinner!
Dinner is served!
Some Rastapharian Friends
Our water taxi is always available. The boys work hard.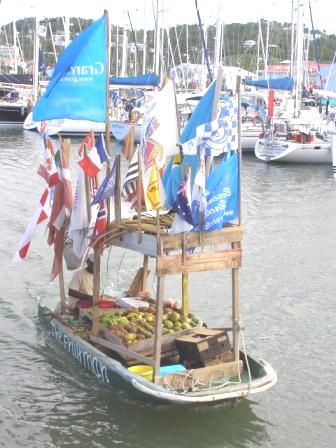 The Fruit Man is out every day selling fresh fruit & veg.
---