Godo got here at last!

Southern Princess
John & Irene Hunt
Fri 23 May 2008 04:28
16:29S 151:46W
Tuesday 20th at 12:00 saw the start of the leg from Bora Bora to Suvorov (Suwarrow) in the northern Cook Islands. Southern Princess & Storyteller were not among the starters as we are still waiting for parts from Italy. The drive belts for our furling headsails both broke within an hour of each other and it has been a bit of a saga trying to get replacements, however we are assured by DHL that they will be here by Thursday. I hope so as we are just sitting and waiting now.
Fifteen boats started this leg today while the rest of the fleet sailed off for Rarotonga in the southern Cook Islands enroute to Niue.
Been having a bit of a problem with the Yamaha outboard the last few days and after replacing the electrical side of the equipment it seems as though they have corrected the problem. Hope so anyway as we will not have access to much in the way of mechanics for the next few weeks.
DHL has been a real saga. Customer Service asked for senders name, address and receivers name and address etc so they could trace the parcel (the waybill number wasn't enough?) and then emailed back they couldn't help and I should contact the shipper. The shipper gave it to DHL to give to me and after it left Paris at 19:04 on 17/5/08 it has disappeared into the ether never to be seen again! Just sent a blister email to the owners of DHL; Deutsche Post World Net and asked for their help! This is getting mighty frustrating.
Thursday, after four days of waiting DHL Customer Service say the parcel is lost and to lodge a claim for compensation. I had been talking to Ian Massam in Auckland and this morning he sent me the following email:
Hi John

DHL NZ wouldn't talk to me as I was not John Hunt so I called the friendly country Australia and they didn't care who I was!! Situation is according to their records, the package has arrive in Papeete on 21/5. They are not sure how long it will take to get to Bora Bora but they suspect 3 business days. they suggest you call DHL Tahiti +689 837373 business hours 7am-5pm Monday -Friday.

Hope this helps
Regards
Ian
Telephoned Tahiti and lo and behold there it was! Arrived sometime yesterday. We should get it via Air Tahiti later today. I will go to the airport and wait for it. Out of curiosity I checked the DHL tracking system again and they still had it leaving Paris as noted above. Apparently the only people who knew where it was are in Tahiti & Australia! They have just called again an the package will be on the 16:00 Flight #413 Air Tahiti to Bora Bora; John Gilder & I will meet the plane.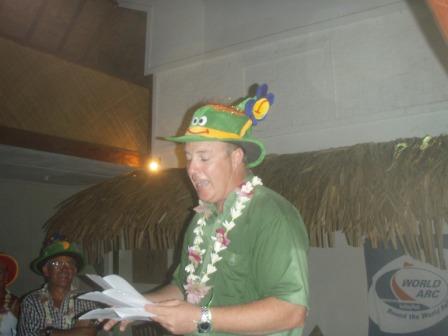 David & Jenny off Kealoha8. David is the owner and Jenny, together with husband Adrian are captain and chef. Nick is also off Kealoha and here is handing out the St Patrick's Day prizes at the Bora Bora Yacht Club.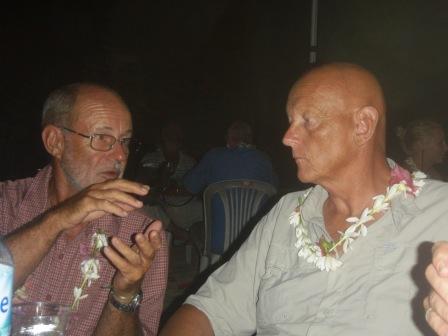 John (Storyteller) Hugh (Blue Flyer). Hugh slipped a disc and had to leave Blue Flyer in Bora Bora while he flew to Melbourne for an operation. This is me and Val, Hugh's wife also off Blue Flyer. My cheesy grin is occasioned by my loosing two front teeth off my bridge work and not being able to smile without gaps.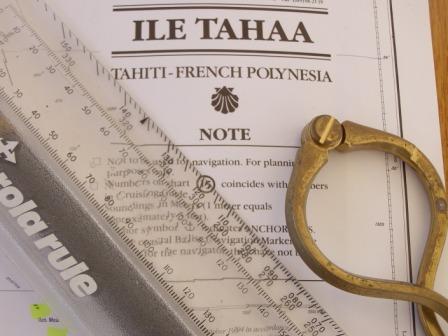 Some arty photo! Chip (Southern Princess) & Shin (Blue Flyer). Shin is Japanese and joined Blue Flyer in Ecuador. His English is getting better and his cooking is great. As Hugh & Val had to pull out of the rally for a while at least, Shin was offered many positions and decided to go with Gray Lady at 72' yacht built by Vaudrey Miller in New Zealand.
Waiting for Godo; and this is where we had to do it, what a chore!
John, rainy & I met the plane and got the package. We asked for a drive belt and a gasket however they sent use replacement pulleys, tensioner pulleys drive pulley etc etc etc Looks very expensive however we will fit them in the morning and head for Suvorov.
That's all for this epistle and back to the Iridium phone and no wifi for a while yet.
Cheers
John, Irene, Rainy & Chip.
---