Hrvatska (Croatia)

Southern Princess
John & Irene Hunt
Wed 6 Jun 2007 08:40
Hravatska Dubrovnik 42:38.42N 18:06.27E
Leaving Kotor, 24th May, we motored (again!) down the fiord to Zelenika and checked out. The officials were as nice as pie and handled our paper work promptly and one of the police even walked me back to the boat. About 20 metres away he said "Oh that will be €10" I offered him a €20 and he said he had no change and then I realised he wasn't carrying a receipt book either so I asked Irene for €10 so our first bribe was for the exact amount!
Dubrovnik check in was a breeze. Everything we had read that the officials were difficult and that the lists they required are interminable but none of it happened. The Harbour Master issued a 12 months cruising permit and wanted to inspect nothing but ship's paper, ships insurance and passports. The cost? Around A$490 for the 12 months and we can come and go as we like during that period. The only thing they want to know is how many people are on board (i.e. a crew list) so that they know how many they have to find in the event of a rescue. All reasonable stuff. Heavy rain squalls has we motored up the river to Marina Dubrovnik however by 17:00 we were all tied up and snug. The rains squalls continued all night.
The next day was a bright sun shiny day and Irene and I spent the day on board do bits and pieces and I managed to fill the gas bottles with LPG. It's a first as we have been using propane the last 3 years. Irene had been complaining about the stove not being hot enough and we found out why when we purged the cylinders of butane some of the 'gas' in the bottles was so old and it had decayed to the extent that it was bright yellow and smelled to high heaven.
Our next door neighbours were an Austrian (Hans) and his wife Hungarian (Eva) and dog Benji. Drinks on board while Hans took us through his special German Cruising guide to Croatia which highlights restaurants, vineyards and other food specialities like cheese, markets and everything food. Wish we could get one in English; anyway we are looking forward to some good meals from Hans's suggestions. Also alongside was a Sun Seeker power yacht from the UK. These are normally very elegant craft however the owner of this one must have been on something other than red wine when he ordered the colour. There is no accounting for taste!
Hravatska (Croatia's) New Flag There is no accounting for taste
Irene & I headed for the old town of Dubrovnik using the local bus service. Runs every 10 minutes and most efficient. Tickets are 8 Kuna (just over a €1) and they last an hour once you have used them the first time. Walked the walls of Dubrovnik, wandered around the myriad of small streets, accidentally found a sports bar (Sue Donovan would be proud of me) where the Wallabies were playing Wales, live at Olympic Stadium in Sydney. Boy the team has changed, I didn't recognise half the players and the mighty George Gregan was on the bench as a replacement player! Wales were ahead 17 to 0 after about 5 minutes and still ahead at half time. Australia recovered but later in the second half Wales went ahead 1 point with a field goal and the Wallabies had to keep the ball alive after the final siren to score a try in the 81st minute to take the game. Great fun!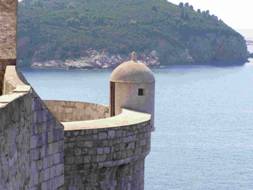 Part of Dubrovnik's walls A street scene
Dubrovnik? Not as good as Kotor, the tourists are just too many with 2 or 3 cruise ships each day and the walk around the wall was crowded.
May 29th, Steve & Rhonda arrive around noon time and we settled down for a good old chin wag as we hadn't seen them since February. Bob & Swannee arrived at 18:00 and it was back to old times. Irene & I had made great plans to go for drinks at a bar on the outside of the walls at Dubrovnik and then dinner elsewhere but it was raining so we all sat around and had drinks and the girls sent us out for pizza again! I have had too much mediocre pizza this trip. Too much booze, Bob threw the cork away as he opened the bottle of port. I was talking shorthand again!
The next day our guests headed off to visit Dubrovnik, Irene and I headed for the fresh food and veggie market to stock up and then after all had returned we attended the local super market to stock up for our trip. 15:00 saw us fuel up, then a view of the mighty walls of Dubrovnik from the sea and then motored to Okuklje on the Island of Mljet. A lovely bay and we reversed right in to the front of the Maran restaurant and after drinks stepped straight ashore for dinner. Our host introduced us to a superb bottle of white sauvignon blanc, just about as good as one from Marlborough, New Zealand.
Today we had a great sail across Mljet Kanal and back again to Luka Sobra to have a look for the night. Not very inviting so sailed back down the coast to Luka Prožura and anchored out. I had spent hours repairing our chain counter a couple of weeks back and this was the first chance to try it. Failure! Back to the drawing board. Fancy this we were bailed up by the local harbour master and had to pay 102 Kuna (about A$22) to anchor. He claimed it was for garbage collection so we gave him everything we had, I think he got a bit of a shock. While swinging around the anchor, Swannee cleaned up at Rumikub, Irene cooked a fantastic roast chicken dinner and a sound sleep for all.
Next port of call was Lumbarda as we had a recommendation to a fantastic restaurant. Believe it or not they were closed for repairs and we eventually found dinner at the Feral Family restaurant. All of our girls promptly fell in love with our handsome waiter, one of the family, and when they found he was married with 2 children 6 & 11, our girls all chorused 'Oh you aren't old enough'! In the berth next to us was a bunch of Aussies from Wongi Wongi on Lake Macquarie in NSW, they were lots of fun.
Team New Zealand beat Luna Rossa by only 8 seconds. John Gilder is texting me the results as they happen.
Shore day today, June 2nd and we caught the bus to Korčula, an extremely beautiful walled town of Venetian origin that has a series of narrow streets off a main thoroughfare like the veins in a leaf which was designed to reduce the effects of wind and sun light. Marco Polo was born here and is probably the town's most honoured citizen. There is some doubt as to whether he really did all those travels to China as he has never mentioned women with bound feet, the Great Wall of China or the drinking of tea. Modern thinking wonders how he could have missed those things. By luck we caught the last bus back to Lumbarda after a Croatian special lunch. Everyone had a siesta, a walk around and more bloody pizza for dinner. Bob & Steve did however source a great bottle of red. We will have to buy some more of that.
Team New Zealand beat Luna Rossa by 55 seconds.
June 3rd; today is Irene's birthday and she had a day off. Breakfast was organised by me and Steve and we sailed for Vinogradišće on the Island of Palmižana (Klement) opposite the town of Hvar. As we motored along the Mljet Kanal in absolutely flat water it was a good opportunity of emptying the poo tank so we could see what was happening. Bugger! Same thing as a couple of years ago, the forward one not working so it was over the side again and with Bob winding the handle I kept shoving the eel up the outlet which finally yielded its contents. We had left the tank empty all winter and it had scaled up which was blocking the outlet. Boy we have interesting subject matter don't we.
Team New Zealand beat Luna Rossa by 1 minute 50 seconds after being 20m behind at the start. Bless John Gilder for his updates.
Swannee finally gets beaten at Rumikub!
Steve, Bob & I went ashore to make a booking at Toto's restaurant. They had a party of 120 arriving and were hesitant but we prevailed as it was Irene's birthday and they relented. Toto's turned on a great night, entrée of lobster in two styles. The spaghetti with special sauce (white wine, garlic, salt & breadcrumbs together with the lobster chunks was superb. Monk fish & grouper for main course and cherry cake for desert. They boys in the restaurant arrive with tea lights around the desert tray and sang 'Happy Birthday' then asked if they could sign us a song. Yep no worries and they burst into a gusty rendition of 'We wish you a Merry Christmas, we wish you a merry Christmas and a Happy New Year' and left us giggling their heads off. As we departed for the night the serenaded Irene with 'Goodnight Irene, goodnight Irene we'll see you in our dreams' – talk about characters.
And our girls talked them out of three Toto's T-shirts as souvenirs. A great night and when we repaired to the yacht, Bob & I sat and nursed a 10 year old single malt The Balvenie until mid-night and I slept like a baby.
Part of the entrée Toto's Girls
Goodnight Irene – a serenade from Toto's boys
---