Baie D'Opunohu Moorea

Southern Princess
John & Irene Hunt
Mon 21 Apr 2008 03:56
17:30S 149:51W

15:00 hours saw us anchored in Baie D'Opunohu on the north coast of Moorea about 2nm west of Baie De Cook. The bottom of Cook Bay is mud which makes the water murky and all three of us would prefer to swim where we can see, hence the move.
We dined ashore at The Moana Sheraton Spa which was treś elegante and complete with a hula dancing floor show, fire eaters and fire walkers. Huge seafood buffet and great desert table to finish off. Only problem was that we walked 30 minutes to get there confident we could get a taxi back however all the local taxis stop at 21:00 so the walk back probably was a good thing after all that food!
The Island of Hiva Oa in the Marquesas have the 'largest tiki in the Pacific' and after a 2 hour drive in a small Suzuki jeep over 47 klm of unmade roads. Pefer our guide and driver kept apologising for the horrible ride. So 2 hours there, 20 minutes with the tikis and two hours back! Worth it? Unfortunately after Ephesus everything else is not quite up to the 'Wow' factor. That's Lorraine with the executioner. They used to chop off heads in front of him.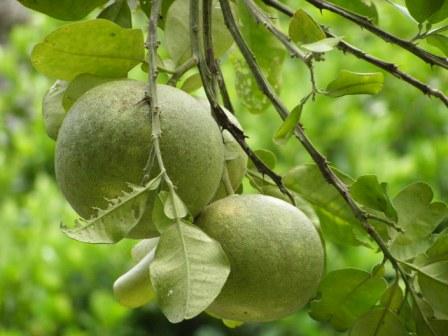 That's Lorraine again or 'Rainy' for short. Have a look at the grapefruit. Locally they are called 'pamplemousse'. Have a very thick skin but once peeled they are delicious.
The pearl farm. This fellow is threading new oysters from another island onto a nylon string so they can hang them under the building and rehydrate them prior to grafting. They take about a week in the water to rehydrate and those that survive have the pearl started inserted and then out into the lagoon for a few years for the oyster to develop.
The grafting process. The oyster is opened slightly and the small piece of starter pearl is inserted into the oyster. JH gets his hair cut by the Princess.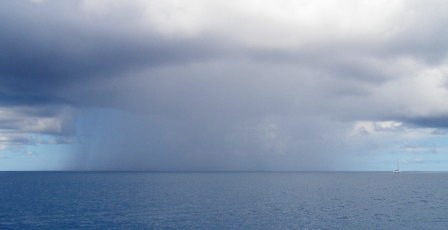 We get some spectacular rain squalls. Most of the time we steer around them but every now and again, especially at night one catches us. Lots of wind and lots of water. Southern Princess is very clean! Storyteller at sunset enroute Tuamotus to Tahiti.
Chooks like these roam wild on most of the Marquesas and Tuamotus. This one was tethered as he was on the way to the pot I think. What about this soda bread. Thanks to Val off Blueflyer for the lesson in making Irish Soda Bread. This is my best effort to date.
Tahitian dancers and the obligatory fire eater and fire walker. These were at Cooks Bay on Moorea.
We arrived in Marina Taina, Papeete, Tahiti on Wednesday 16th and have since then been busy getting all the jobs done. We will be here until the 2nd May at which time we take part in the Tahiti Pearl Regatta for 5 days ending in Bora Bora.
As things happen, I will up date the blog. In the meantime be good to one another.
Cheers
JH
---