The End is Nigh!

Southern Princess
John & Irene Hunt
Wed 29 Oct 2008 22:15
36:50.499S 174:45.641E
The last couple of days from Opua to Auckland have been champagne sailing. Tight reach, all sails filling and Monday an average of nearly 9 knots for 100nm and Tuesday morning a beautiful sail across the Hauraki Gulf in light winds, flat seas and a 12 knot breeze. Magic!
Last night we celebrated our daughter Gabrielle's birthday in great company. Her husband Richard, his brother Brian and their parent's Arthur & Elaine, nice people all. Earlier in the day I got to see my two grandchildren Hudson & Cooper since we saw them last in Fiji and what can I say? Magic boys with fantastic parents, thanks Gab & Rich it makes us proud.
Southern Princess is now safely tucked up in Viaduct Marina in downtown Auckland at the end of something like a 30,000 nautical mile journey. Thanks to Geoff Buick & Bob Culbert for ably assisting in bringing her safely over the last ocean of this voyage.
This adventure of ours started in July 2003 at the Sydney Boat Show when Irene sat on board a Beneteau 57 and said "hey I could live on something like this" and that was that. Within 12 months we had sold a boat, bought a boat, rid our selves of two businesses, leased the house and on the 20th June 2004 we retired, flew to France and took delivery of Southern Princess.
I have been writing these reports for nigh on 5 years now and today we have finished with this journey and this part of our lives. It is off home to Sydney soon, get the house back together, move all the furniture back in and start a landlubbers life again. Sailing will always be a part of our lives I hope, but now I get to fulfil my promise to Irene that the next 5 years are for her and golf!
We have a sail bag full of memories and I guess I'll try and correlate all the various blogs and reports and see if I can make then hang together in some kind of narrative with which I can bore the pants off everyone I meet.
The best thing about the last 5 years is that we have collected an amazing group of friends from the yachting community who will, we hope, remain life long friends. They come from all walks of life, several different continents, speak an array of languages, have political and religious views which span the whole spectrum and have that spirit of adventure which makes them exciting to know and to be with. We miss the frequent contact with them already!
Love to you all and especially those who have corresponded with us over the years.
Safe sailing, fair winds and friendly seas!
John & Irene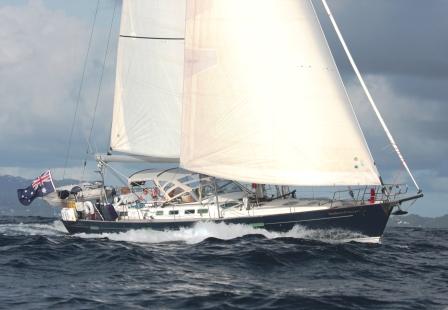 Southern Princess, in her element, reaching into Bequia January 2008.
The End.
---