Tuesday January 29th 10:10N 78:34W

Southern Princess
John & Irene Hunt
Tue 29 Jan 2008 18:22
Wasn't really sure what I was going to talk about today and then as will happen at sea some things happened.
You will recall a few days ago I was bleating about the leather bound halyard letting go and dumping one of our twin headsails over the side!
Well! The wind was so light this morning, we decided to give the MPS a run (that's the yellow sail in the picture below) and we put it up on the brand new halyard purchased in Las Palmas prior to the Atlantic crossing. This is the first time it has really been under any pressure and you guessed it, just while Chris & I were hauling a fish over the stern, the halyard let go and dumped the beautiful yellow sail into the drink. Talk about a vascular workout hauling it back in board. We now have nothing forward of the mast on which to haul up additional sails so we are lolloping along at 5 knots with main and genoa!
Now talk about a fish. Just have a look at this lot and any assistance identifying it would be appreciated. Collectively we think it is a Spanish Mackerel. Are we right?
We will be in Panama tonight in the early hours of tomorrow. We are excited about the canal and I will keep you posted.
Love to all
John & Irene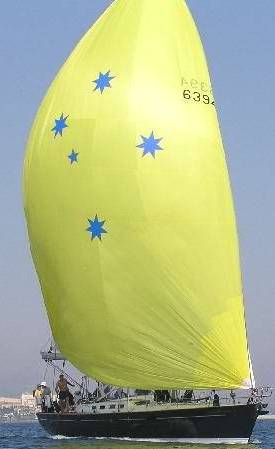 You have seen this before. This was taken off Estepona back in 2004.
It's a lot bigger full of water!
Don't know the weight as we haven't any scales but it is a biggy!
---