True Blue Bay, Grenada 12:00N 61:46W

Southern Princess
John & Irene Hunt
Sat 19 Jan 2008 17:58
We have had a busy time since Sammy & Megan departed on New Years Day. The 2nd saw us heading south again to Le Marin in Martinique and an appointment with the Beneteau agent. We required a new door handle for the small fridge, a check up of the hydraulic steering and on impulse we asked about replacing the washing machine. No luck with the door handle as Beneteau had none in stock and it would take too long to get one from Frigaboat, Fredo checked the hydraulic steering and pronounced himself happy that it had no air in it and did not require bleeding and we acquired a new washing machine.
Hubert suggested we try B.U.T a local wholesaler of soft furnishing and white goods. Rented a car and away we went. Two hours later we are back with a new washing machine by Brandt. Scary really as the Thomson washing machine we were disenchanted with was also made by Brandt. Took a couple of hours to change them over as the new one was 40mm narrower and after messing about with hacksaws and drill bits I managed to alter the stainless steel plate which becomes the major fastening device into the ship. The old one was given a formal burial at sea. I have video, too big byte wise for the internet, where Irene said a few appropriate words before consigning it to the deep!
We spent a couple of days in Marigot Bay on St Lucia where Irene attended a local private hospital with what turned out to be a migraine headache. Great hospital, clean, up to date, modern and as good as anything we would get in Australia. They even had a matron and proper nurses! Great charging system, a flat US$700 up front charged to your Visa card and then a refund if it didn't come to that amount! Whew! We got a refund!
Travelled further down the island chain (Lesser Antilles) Bequia and finally Grenada and True Blue Bay Marina. Our friends from Scotland Derek & Bernadine Claase joined us on board for a few days. Their Beneteau 57 'Iolanthe' had been left on the hard in Grenada for the summer and they were returning to launch her a few days later. Derek & Bernadine had crossed the Atlantic this year on Storyteller and when they had returned to Scotland for Christmas had left with us a couple of suitcases which we delivered to them in Grenada. We had a beaut few days and it was with sadness that we bid them farewell. We won't see them again until early in 2009 when we all hope to go skiing in Colorado.
The 1st time we sailed into Bequia, we were power reaching at around 9-10 knots when a rubber ducky shot out and started photographing Southern Princess. Found out later that an enterprising young man, Kenmore Henville, takes lots of photos on 'spec', prints them and sells them around the yachts the following day. Unfortunately we departed at 06:00 and missed him, however on our return journey, I called him and met him at his waterfront office. Some beaut pictures and we bought the digital images for the lot, one print mounted and framed which now hangs in pride of place on board. Not a bad business; if only half the yachts pay him what we paid for our shots, he will be a great success.
Back up the islands to Martinique so that Irene could fill the ship with good French food, wine and goodies prior to our next leg of our journey back to Australia.
Arrived back in St Lucia on January 15th to prepare for the journey to Panama. Chris & Faith Mortimer join us on the 19th and they will crew with us until the Galapagos. Lorraine Steele joins us in Ecuador and sails with us to Tahiti. Be great to see old friends again.
I don't believe the St Lucian government. We arrived here on December 12th and Irene was issued with a 3 month visa. (We kiwis don't require one!). It cost EC$125, required a photo, a completed form and a stamp in her passport. OK fair enough but when we returned today they wanted the whole bloody lot done again because it was a 'single entry' visa only. They really are stupid as this will stop people returning to St Lucia and just sail right by to the other islands. Wish I had an email address for the Minister, I would really give him/her an earful.
We have a bit of work required here before we depart for Panama. The leach line in the genoa has broken, we are installing a new 12v bank of batteries and we must have a cover made for the foredeck. We have so much rain that we have to cover the fore deck so guests sleeping in the forward cabins can leave the hatches open for air.
Once we start on January 23rd on the leg to Panama, I will probably start the every day ARC log again so tune in to find out progress.
Hope this hasn't been too boring!
Happy New Year and a GREAT 2008.
John & Irene
Just another sunset!
The repaired boom. Note the two patches hope they hold to NZ!
Still has a crinkle at the gooseneck!
Dockwise is a ship for transporting ships. It sinks, the cargo floats into place then they re float the cargo part of the ship.
Some of the places we are forced to go for lunch. Someone has to do it!
Irene, Bernadine, JH & Derek at Aquarium Restaurant, Grenada.
The girls are happy.
Le Marina Harbour, Martinique & the local craft are racing.
Power reaching into Bequia, January 8th, 2008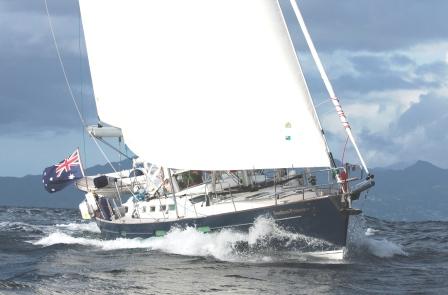 9-10 knots and she is smoking!
---