It's still bloody pouring!

Southern Princess
John & Irene Hunt
Sat 14 Jun 2008 03:52
18:39S 173:59W
We departed Niue and headed straight for Vava'u, Tonga and 36 hours later we were here, after motoring for 26 of the 36 hours. During the previous night, it rained for 5 hours solid. No it didn't just rain, it came down in buckets. In the last four years I have not worn my wet weather gear because of our terrific enclosed cockpit, however that night I had the jacket on inside the enclosed cockpit because the canvass could not keep the water out and it was dripping every where.
We had been advised not to arrive during the dark hours and you guessed it we arrived at 03:00 on a very dark morning. The major lighthouse to mark our entrance was not working, complete blackness and we had been warned that the GPS was not accurate! We crept in at around three knots with a big flashlight and 1 million candle power search light (gifted to us by Lee & Alan O'Sullivan a couple of years back - thanks guys) lighting our way along each bank. The bottom lead light was working; and the top one wasn't! And it was at this time that the GPS and the local charts just went wonky and we were now sailing across the land. Anchored off the town dock and to bed until the customs and immigration opened at 08:30. It was still raining.
Vava'u is a town which is dedicated to cruising yachts. Each morning at 08:30 there is a cruisers net on VHF 26 where they supply the latest weather, updates on what's happening ashore and the local merchants use it to entice us to spend money in their shops and bars. Great stuff! On the net we heard about the Safari Karts and Ian, Avelyn & I went on a tour across country and saw some grand country and some stunning views and in the process got covered in Tongan Mud from head to foot. Safari Carts are a cross between a Dune Buggy, Go Cart and an angry sewing machine with your bum 6" above the dirt. Great fun!!
I would like to return to Tonga one day as we haven't enough time this trip to see everything that I would like to. Maybe when we sail the yacht to Australia in a years time we can come back this way again.
We depart for Fiji on Monday at 06:30 and hope to arrive in Lautoka before lunch on the 20th. Gabby, Richard, Hudson and Cooper arrive that evening and Irene & I want to be there to meet the plane. Can't wait!
Love to all and I'll keep posting daily logs when we are under way.
JH
The village of Alofi South in Niue put on a great feast for us all. The dancers were fantastic and this young lady was the current Miss Niue. A close up of her beautiful face and smile and she even had ...........................
rhythm in her toes! This is me at 13 metres in a dive off Niue. The last shot ever taken with this camera as I discovered later it was only water proof to 10 metres!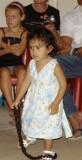 The children were the outstanding characters of the Alofi South feast. They just posed naturally for the camera.
No one was shy and when asked to pose the obliged.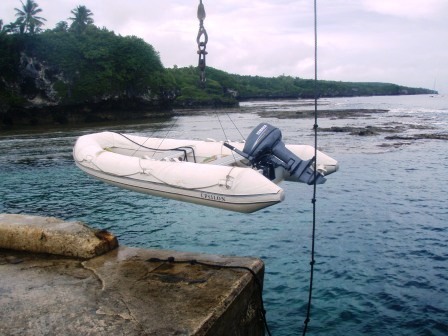 The dinghy host at Niue. There is no harbour and the ocean swell can get quite severe at the landing place. The crane is always left in the lowered position over the water and on arrival, the passengers disembark, sometimes into a few feet of water on the landing, the dinghy is hooked on and lifted out. Lowered onto a trolley it is then parked out of the way for the next arrival. Irene & I at the official reception in Vava'u Tonga.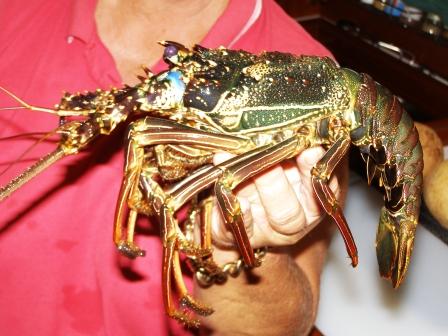 Met a stranger in the streets of Neiafu who offered to catch and deliver two lobsters to us the next day. Seemed like an honest fellow so I handed over 75 Pa'anga
(around A$45) and he promised to deliver at 08:00 the next day. By 10:00 I thought I'd been had and at 10:30 he arrived with fresh lobster caught that morning. What a great lunch they made with a dry French wine.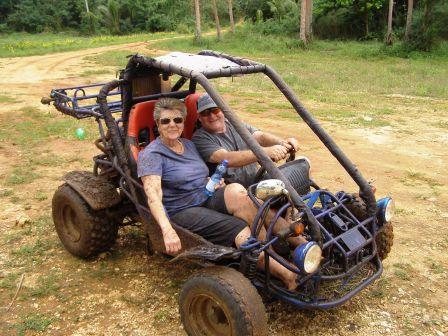 The Angry Sewing Machine! Some spectacular views not available from the beaten path.
---