Food, Glorious Food!

Southern Princess
John & Irene Hunt
Sat 11 Oct 2008 05:08
Food, glorious food!
Hot sausage and mustard!
While we're in the mood --
Cold jelly and custard!
Pease pudding and saveloys!
What next is the question?
Rich gentlemen have it, boys --
In-di-gestion!

Food, glorious food!
We're anxious to try it.
Three banquets a day --
Our favourite diet!

Just picture a great big steak --
Fried, roasted or stewed.
Oh, food,
Wonderful food,
Marvellous food,
Glorious food.

With apologies to Lionel Bart & Charles Dickens
We were last in Noumea in 2001 and in the interim there has been a proliferation of good restaurants and we have had fun trying some of them out.
Sabine, one of the crew on Branek IV, a WARC yacht has her son working here in Noumea as a teacher in the restaurant and catering school. This school runs a restaurant 'La Case - Restaurant le du Lycée Jean XXIII'. Mark made us most welcome and he and the students who cooked and served lunch were excellent.
There a currently six ex - WARC yachts here in Noumea, Storyteller, Harmonie, Lady Kay, Basia and Williwaw II plus Southern Princess
and all the crew attended the 'La Case - Restaurant le du Lycée Jean XXIII' lunch. That's Mark standing at the rear. Photo by Lady Kay.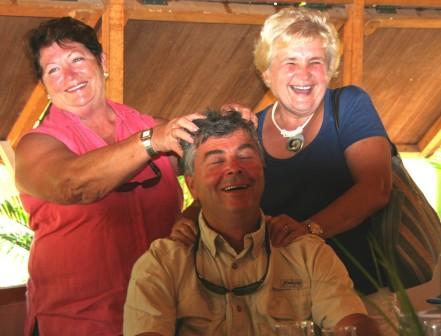 I don't know how he does it! Don Meyers (Harmonie) has a neck and back rub from Barbara (Basia) & Irene (Southern Princess)
Photo by Lady Kay.
Following are some underwater photos of some of the denizens of the lagoon here in New Caledonia.
An albino manta ray. Sea Horse
Seahorse up close and personal! Millions of reef fish.
Emperor fish. (They reckon he looks like Napoleon) Shark and attendant remora!
Moray Eel (Bashful) Coral
Florescent at night Some amazing plants.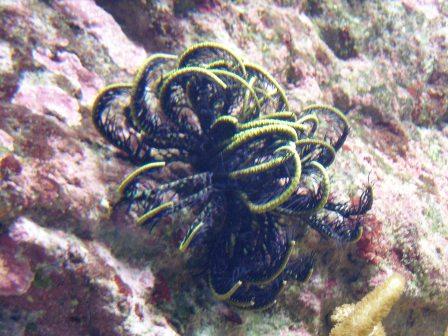 The coral is just amazing.
LE ROOF, Anse Vata, Noumea, New Caledonia.
This is one of the best restaurants we have encountered in 4 years of sailing our yacht throughout the Mediterranean, Atlantic, Panama and across the Pacific.
The location is on a pier built well out into the lagoon at Anse Vata. The seating is around an external deck, sheltered from the weather and with great views across the lagoon.
On advice from friends we all had the same main course. Deep sea scallops, ratatouille, lettuce, parmesan crisp, prawns and sun dried tomatoes.
The presentation was thus:
A 'chimney' of grated parmesan which had been roasted in the oven and then folded over a circular item such as a bottle into a chimney shape. This was stood on end, the ratatouille spooned into the bottom, some of the scallops placed on top and the balance of the chimney filled with Kos lettuce leaves inserted base first into the chimney and drizzled in a creamy salad dressing. The prawns were hooked tail first around the chimney edge. Plated around the chimney were 3 large plump fresh deep sea scallops, including the roe, which had been lightly grilled. These were bedded on a grilled sun dried tomato with the sauce they had been cooked in spooned over.
Le Roof - fantastic food and elegant surroundings.
Coupled with a dry white Sancerre it was fantastic.
The deserts were equally well prepared and presented; my sabayon was fantastic, it was mixed with red berry fruits and had a caramel glaze. As a lunchtime desert, light and easy on the palate.
I could not recommend this restaurant more highly.
We are going back for dinner in a couple of days, however my wifi runs out tomorrow so it will have to wait for the next blog.
We depart for Opua, NZ via Norfolk Island in a few days so I will post daily blogs on that trip so we get a pin in the chart each day.
Love to all
JH
PS: who worked out that all the underwater pictures were taken in Noumea Aquarium? It is brand new and one of the better aquariums we have been too.
---