From Sydney via France to Malta

Southern Princess
John & Irene Hunt
Thu 3 May 2007 06:05
DEPARTING AUSTRALIA APRIL 2007
April 6th saw us departing Australia and barring emergencies, we don't anticipate being back in Sydney before February 2009.
However prior to departing, Irene and I decided to visit old friends in Brisbane, Alan & Helen Gale who made us most welcome and we had a great time. Alan has a great intellect and as is his want he plied me with books I 'must read'. One – 'Confessions of an Economic Hit Man' by John Perkins is one of the most disturbing books I have read. The dust cover reads; "John Perkins was a economic hit man for an international consulting firm that worked to convince poorer countries to accept enormous development loans – and to make sure that such projects were contracted to U.S. companies. Once these countries were saddled with huge debts, the American government would request their 'pound of flesh' in favours including access to natural resources, military cooperation and political support' This books details the invasions of Panama and Iraq for economic reasons not terrorism and the interlocking relationships between the Bush family, Dick Cheney, Halliburton, James A Baker III, Bechtel corporation, US Department of Treasury, OPEC, House of Saud, Henry Kissinger, Robert McNamara, George Shultz, Casper Weinberger, the Shah of Iran, Ronald Reagan et al. And the murder of various democratically elected leaders of sovereign countries by the CIA to promote unrest and to advance the U.S. corporate interest. Frightening stuff! The book has ISBN 0091909104 if you want to order it!
The second book Alan gave me is 'Failed States' by Noam Chomsky which scares me even more. Comment on the book says "Exploring the latest developments in US foreign and domestic policy, Chomsky reveals Washington's plans to further militarise the planet; assesses the dangerous consequences of the occupation of Iraq, which has fuelled global outrage at the United States; documents Washington's self-exemption from international norms, including the Un charter, the Geneva conventions and the Kyoto Protocol; and examines how the US electoral system is designed to eliminate genuine political alternatives, impeding any meaningful democracy." Chomsky is Professor of Linguistics and Philosophy at Massachusetts Institute of Technology. Oh and yes he is an internationally recognised left wing thinker!
Having just watched the people of my home state, New South Wales here in Australia, re-elect a government which has been in power for the last 12 years and has proved absolutely incompetent underlines that the electorate either doesn't care or doesn't make an informed decision before voting. The smear campaign run by the winning side was outrageous but seemed to work. In my opinion the sooner we get rid of preferential voting here in Australia the better. First past the post will make it a lot easier to dismiss an incompetent government if they don't honour their promises. This latest state government only won 39% of the popular vote but 52% of the seats! I think we have a problem with representative democracy here in Australia!
Boy that was a bloody heavy start to the next phase of our retirement. Sorry guys! Alan you will have to stop loaning me these books!
In my last missive I detailed how we were going to Mauritius on the way back to Europe. Unfortunately this didn't happen as I had to have another small operation and the Doctor would not let me fly for at least 10 days afterwards. Thanks goodness for travel insurance! Our long suffering travel agent, Judy LeGras changed all the bookings and we flew Royal Brunei Airline to Brunei, then Bangkok, Frankfurt and finally Toulouse without a break. Our good friends Larry & Liz Mills picked us up from the airport and returned us back to Au Pigeonnier, their home in Aiguillon, France for a few days prior to returning to Malta.
Their hospitality was the usual high standard and apart from Elizabeth having a bad piece of fish for dinner on day one, which caused some tummy upset we had our normal gourmet tour of the Lot Valley.
When last we were here we celebrated a birthday for Richard Cropley in the nearby village of Gallapian and this year Richard & David Robson invited us all to their home for a 9 course extravaganza.
The Easter Monday Lunch, April 9th 2007 menu as follows:
With the welcoming Champagne, a Pommeroy NV & a Billecart-Salmon, supplied by Larry & Liz they served two types of vol-e-vents; the first were crab & caviar and the second foie gras.
******
A soupçon of Nettle Soup. Richard had that morning picked wild stinging nettles and even suffered the odd sting to his knuckles for his efforts.
******
Artichoke heart with soused lemon peel, complimented by a red radicchio salad a strip of pan fried prosciutto all drizzled with virgin olive oil.
Domaine Magellan 2004, Vin de Pays Côtes de Thoungue
Vieilles Vignes, Bruno Lafon
******
Sautéed prawns with garlic and chilli dip.
Bernkasteler Doktor 1993 Riesling Kabinett
Dr H Thanisch Muller Burggraef Mosel-Saar-Ruwer
******
A wild sorrel soup once again with the ingredients being picked from the surrounding wood land that morning.
Bourgogne Chardonnay 2004
Cave de Lugny, Médaille d'Or
******
A light and fluffy smoked salmon and prawn terrine with a warm pesto sauce.
Riesling 2005, Caves St Martin, Bennwihr
******
New Zealand leg of lamb roasted with rosemary and a red wine reduction with roast potatoes, haricots verts & red endive.
Château Lafite 1970
Mount Mary 1992 Merlot, Lilydale, Victoria, Australia
******
Three types of cheese, one hard and two soft from the local area.
Vino Nobile de Montepulciano, Cecchi 2001
******
Méli-mélo of alcoholic preserved fruits with Monbazillac ice-cream and Zabaglione coupe.
Domaine du Petit Marsalat 2004 Monbazillac
******
Coffee
******
Needless to say we arose from table absolutely stuffed! The wines were superb, the company great and the whole afternoon a day to remember. Thank you Richard & David.
David & Richard
On Wednesday April 11th, Ian and Dara Frazer from Northbridge and their two children, Robby & Becky arrived for a week with the Mills and it was a fun overlap of visitors. Some more fine food, a visit to St Emillion, a tour of the great wine cellars carved into the sandstone under the village, some of which had been around for several hundred years, another gourmet lunch and a long drive home, most of which I slept.
Dara, Irene, Robby, John, Ian & Larry wine tasting in St Emillion
1975 Grand Cru- 1000s of bottles
The trip to France was a great success and our thanks to Larry & Liz for making it such a special time.
Spring has Sprung
Friday 13th April saw us travel by train to Agen and the Mariottat Restaurant for another 8 course lunch and some of the best wines we have tasted in France. Un fortunately I didn't get a written description of each course so you will just have to take my word for it being SUPERB! After lunch which commenced at 12:30 and finished at 16:30 we all repaired to the train station for the Mills & the Fraser's to return to Aigullion while Irene and I took the train to Toulouse and a cab to the airport at Blagnac for a 21:45 flight to Malta arriving at midnight. A car picked us up for the Milano Due Hotel in Gzira just along the road from where the yacht was wintered. I can safely say that it was the worst hotel we have ever stayed in. The rooms was so small you had to go out into the corridor to change your mind, the double bed the smallest we have ever seen and a lumpy as anything. The kapok pillows were lumpy and the room smelled of years of neglect! We now understand why they took all our money in advance. We only stayed until the Southern Princess was launched on Monday April 16th and we promptly moved onto the yacht even though it wasn't really ready.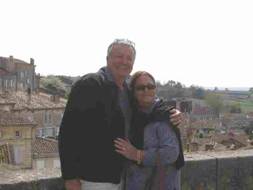 John & Irene – St Emillion
---