Townsville, Saturday 7/1/12

Glenoverland
Sat 7 Jan 2012 11:21
19:15.46S 146:49.2E
Townsville
Lonely Planet says: "Hot stuffy Townsville, industrial in makeup, has a rough edge and an air of racial tension, a hangover of the riots on Palm Island in 2004 after an Aboriginal man died in police custody. Reports of stabbings, predominantly by belligerent out of towners after dark, now appear in the news most weeks".
We were there on Saturday morning and had a COMPLETELY different impression. It's a beautiful looking city, great marina, iconic archditecture, clean and prosperous looking, with enough industry to make it rich.
It was really hot, so not many pedestrians about. We thought we'd do the maritime museum, wandered up and down looking for the way in, and a voice from a van yelled "it's closed!" We walked over to the owner of the voice, a chap, who dangled the museum keys before us and said " I'm not opening it today, there's too few volunteers and I'm fed up with it, they treat you bad and it's boring". But he did tell us about the museum's piece de resistance, remains from the Yongala, a passenger liner that sand on the Great Barrier Reed in 1911, and was not found for 45 years. it is now the most popular dive site in the area. (We are still not sure if he was planning to sit outside the museum holding the keys all day).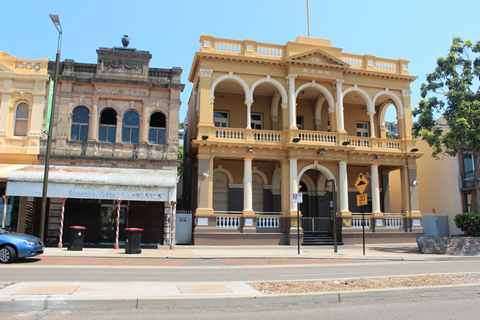 ---