Sunday 27/11/11, Albany

Glenoverland
Wed 7 Dec 2011 02:02
35:01S 117:52.5E
I am writing this in our tent in the evening in Albany, it is quite chilly and Sandy's in his sleeping bag, and I am sitting by the gas light wrapped up in mine. We had a really inactive day yesterday, in Esperanc e. We did get loads of computer stuff done while we had wifi though. The day got colder, wetter and greyer and by the afternoon we decided to go and park the car somewhere nice and read and paint, then out for a very expensive (but not very nice!) dinner in the evening. But Esperance is a lovely, busy town, they export iron oil and grain. All these coastal towns are dominated by their towering grain silos at the port, you see them from miles off looking like a Greek temple, all shiny white. Twilight Beach is idyllic, and Sandy was the hero of the day and pulled in a guy who'd run out of steam, swimming out to the big rock.
Today we arrived in Albany, and spent the afternoon at the whaling station. Quite amazing, as though it was just abandoned (it opened in 1952 and only closed in 1978!) We saw some gut wrenchingly gory footage of the hunt and processing. Whale oil was used till quite recently in margarine, and I beleive it is still used as some sort of rocket lubricant. All the equipment is still there, the huge cookers to melt blubber (we went inside them), the winches and the head saw.
I was painting in the camp kitchen tonight, and a young (Grant)came in to cook his phone, which he'd dropped down the loo. He watched me painting and said "awesome" several times! We met his dad later, Ray, lovely bloke who keeps the campsite pristine. We were all huddled under the outdoor heater in the open air kitchen. There were 3 other people, one of them (Gary) very drunk, and he told us he'd been done for drink driving 6 times ("I dont bother driving any more"). I think the 3 of them lived at the campsite. They were cooking a big pot of vegetables for dinner, but after 2 hours boiling away there was no sign of anybody getting around to eating them!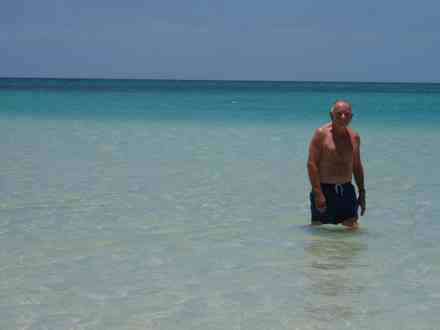 ---