We haven't got to Bromo yet.

Glenoverland
Wed 21 Sep 2011 11:43
7:51.8 S 112:29.7 E
Wed 14th September 2011 (3 on sketch map) Batu. Central Java
Driving in Java is very slow, you average 25 mph along the main road that goes from Jakarta in the west to Surabaya in the east, and it is just one long village. We didn't know this when we opted to come by car, we were just told it's much better than the train, which we now wonder! So after 2 gruellingly long days we are still not at our destination. We did get hauled into a police checkpoint which, Verdy told us, is a money collecting enterprise. They had a look at our undies draped all over the boot to dry, and I had my picture taken with one of the policemen who had very nice aftershave on, then on we went.
We ended up in pitch dark in a town called Batu. Verdy wanted to carry on to the volcanoes, which would have been another 3-4 hours on winding roads, packed with trucks and motorbikes, in fog, and everybody overtakes on blind corners. So we opted to stop. Apparently Batu is a lovely hill resort, but of course we didn't see anything! It was pleasantly cool, Verdy was freezing.
This night, we stayed in a losmen, that's the word for a small, family run hotel. If you get a bathroom, it's called a mandi (see picture), there is a big bucket of cold water and a saucepan for sloshing water down the squat loo, and a cold water tap to fill up the saucepan to slosh over yourself, if you are brave enough. You can also order a bowl of hot water for washing if you are a wimp. The losmen lady had lovely box topiary in her courtyard, a spiky ball and a peacock. We left early to carry on to Bromo.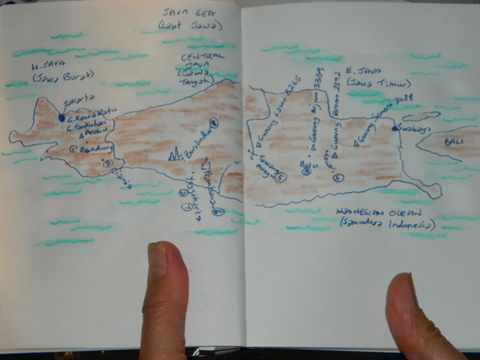 ---