Friday 29th April (Royal wedding day!)

Glenoverland
Fri 29 Apr 2011 16:57
Sandy and I raced off to the court this morning after getting a hint that the papers might be ready. They werenât. Big disappointment, we have to go back on 4th May after the long weekend.
So we got on with our day, and again, helped by many nice people on buses & trams, got ourselves to the fairly nasty Arkadia Beach, had lunch, then did the 2 hour walk back along the âfitness pathâ . Really hot, and we are both still wearing our one pair of jeans!
The pictures are: another of Sandyâs loos collection; some more views of Odessa. The seagull one is the hoarding they put up in front of construction & demolition sites. It paints quite an idyllic and unreal picture of the Black Sea!
Have seen & heard NOTHING of the Royal wedding!!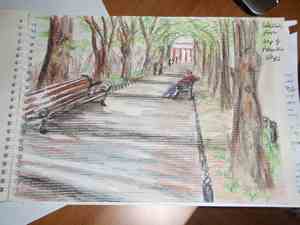 ---