Saturday 17/12/11, Kunnunurra, Wyndham

Glenoverland
Mon 19 Dec 2011 11:09
15:46.7S 128:44.8E
Our overriding impression of Kununurra is that it is a fairly tragic welfare town, surrounded by an amazing landscape. The same welfare dependency story comes out again and again. But on a brighter note, we have been told that things are better in the Northern Territory and Queensland.
We took a drive from Kununurra to Wyndham, a real wild west town. Wyndham boasts a crocodile farm, run by an Aussie character who genuinely seems to like them, the meaner the better. The breeding stock (each one known personally and named) have been captured from the wild because of their love of dogs and cattle, so it's a sort of correctional facility, but you only leave as a handbag.
To harvest the eggs, 2 men go into the enclosure with their aluminium "cone of silence", on a long broom handle. One sticks it over the croc's lower jaw and fights for supremacy (for a max of 5 mins) while the other takes the eggs from the sand nest. The eggs are hatched, grown to 1m crocs, then packed into plastic tubes and transported to the slaughterhouse. Here they are shot & skinned, & the skins salted and shipped to France, because the French are the best at curing them. They end up as Prada and Gucci bags.
The really nasty crocs are "salties"; the freshwater ones only bite if you bother them. Actually they are all freshwater, but the salties can inhabit estuaries, and can walk up to 100km overland!!!Consequently, there are signs all over this area telling us not to camp near water, nor swim – I don't need telling twice!!
The real Crocodile Dundee Story -
is actually very sad. Rod Ansell was marooned at the mouth of the Victoria River when his fishing boat overturned. He survived for 7 weeks with his 2 dogs on a diet of feral cattle & sharks, and was rescued by bushmen. His story hit the news and inspired Paul Hogan to make the film. Ansell was disenchanted with the royalties he got, and took to drugs. He later lost his cattle station and was then convicted of cattle stealing and arson. Now enfeebled by his drug habit, and weighing only 43kg, he shot at a man he thought had kidnapped his children, in 1999. A police chase ensued and he shot and killed 2 policemen. He was shot by the police and died a broken man.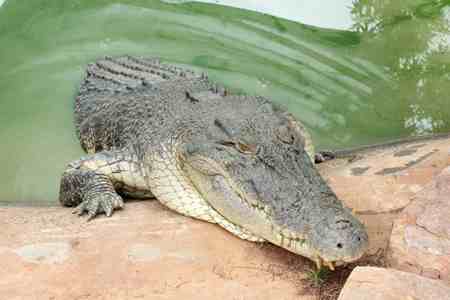 ---