Forest Beach Friday 6 Jan 2012

Glenoverland
Sat 7 Jan 2012 11:20
18:43S 146:18E
Forrest Beach overnight, plus pictures of Townsville
We thought this was going to be a quiet bush camp on the beach, which is idyllic with miles of golden sand and a backdrop of tropical islands. But the waters are infested with deadly marine stingers and saltwater crocs, so you can only swim in an enclosure with a stinger suit on.
The quiet bar just up the beach turned out to be having a band, and we thought, oh good, we can practise our rock and roll. But they were SO LOUD that we couldn't stand it. Also, the evening turned into a scratchathon, with everyone brandishing their aerogard over the fish and chips. Most of the dancidng sround was in response to the marchflies and mozzies rather than the music. So us wimps slunk off to our mozzy net haven and left them to fight it out, and woke at 6am to be rewarded with a gorgeous pink sunrise over the Coral Sea.
Oh, and if you see a fire, the notice says "report OOOO". On re-reading it said report to zero zero zero.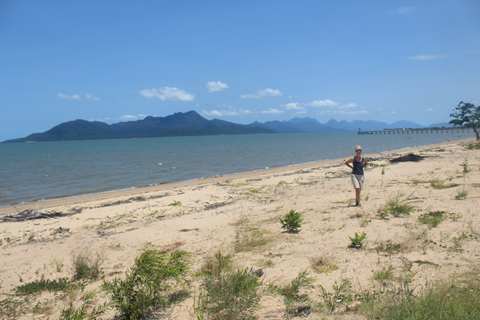 ---