Zagorhoria:Mikropapingo to Astraka Lodge Wed 7 July 2011

Glenoverland
Sat 9 Jul 2011 19:33
We left Monodendri and drove around a bit, and had lunch in a really beautiful hotel in one of the villages that was EMPTY. The owner told us that this year NOBODY has come, Greek or otherwise. Just across he road from this hotel is a very fancy looking outdoor activities centre, that is closed.
We drove on to Mikropapingo at the foot of Astraka Mountain. We had been recommended to stay with Dios ("God") but he wanted 45 euros for the room and was not bargaining. The next one up the hill (a spa hotel) wanted 75 euros and wasnt bargaining, there was nobody else there but he didnt seem to mind. We ended up at a B & B right at the top of the village in a self catering apartment with a charming garden for 30 euros. However, we did eat at God's restaurant, and met a Dutch father and son, Hari and Robert, who were on a hiking holiday to celebrate Robert's A level success, and they were planning to hike up to Astraka Lodge too. They also had 2 dogs with them who had followed them for 20km having been given a few bits of bread.
We made a really early start in the morning, and were rewarded with a surreal view down on to the tops of the clouds filling the Vikos Gorge. The book said the climb to Astraka Refuge was 3 hours. It was a 1000m climb, all up, but a nice gradient and we were pretty pleased with our 2 hours 45. Our dutch companions arrived just after us, complete with dogs and a noisy interlude ensued where the Refuge dogs and the interlopers established a pecking order, all closely observed by nosy Pindos ponies at the doorstep of the refuge. The refuge boss, Giorgios, gave the Dutch boys quite a telling off for encouraging these unfortunate dogs to leave their home town, however bad it might have been. He didnt mince words, Giorgios.
We had a bit of lunch, then walked to the Drakholimni lake (HARD!). It is a local phenomenon, being an artesian lake, kept constantly full of water by the adjoining mountain. It is also full of lovely newts (and has a fly population to rival the best Australian swamp). We returned to a very mediocre dinner cooked by Giorgios, but what he lacked in culinary skills he compensated in local insight. We asked him why all the villages in the National Park have been so lavishly hotelled but without a shop, bank or post office in sight. His answer came very quickly : "Because the government are stupid", and proceeded to explain that a law was passed that the villages could be refurbed, but could not have any new industry that was not there originally. During WW2 the Western Zagorians collaborated with the Germans, so their villages were left intact. These villages were farming communities that had died a natural death with people gradually leaving, going to the big cities for work. Giorgios was really incensed with the stupidity of this development, but clearly people are powerless to do anything about it.
By now we had run out of money, and couldnt get any more without going to the big city of Ioannina, and our Dutch friends, who were camping and hiking, hadnt even been able to buy themselves any food, except bread nicked from restaurants.
Following that interesting chat, we ate our miserable cold spaghetti, and after a night in a dorm with 21 other people, and hiked down next day without much energy, but very glad we'd done it.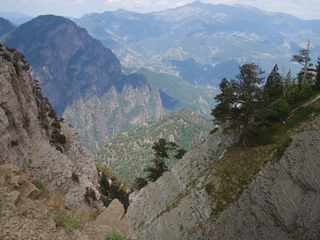 ---