Travels with Robyn, Beechworth

Glenoverland
Mon 14 Nov 2011 11:26
needs lat long Beechworth
Needs pics Beechworth etc, photo of Dave
Sunday 6th November 2011
We said goodbye to Jen and Ben's friends, soon to return to UK and New Zealand, and set off for a whistlestop tour of Victoria and NSW with Robyn, trying to tick as many boxes as possible in a week. We were pretty jaded after Saturday but managed to drive ourselves to the NSW border to a country town called Beechworth.
I love these country towns, they are different to anything we see in England, and uniquely Australian. We've noticed in recent years that some of them are dying on their feet, having lost their raison d'etre with changes in the Australian economy. But many of the more accessible ones have really undergone a facelift and are enjoying new prosperity as tourist destinations. They sometimes end up quite theme parkey with sugary teashops and antique centres, "working" blacksmiths and horses and carriages everywhere you look. But Beechworth seemed to have escaped that while keeping its character and nicely renovated verandahed shops and pubs.
The pub was really hopping when we walked in on Sunday afternoon, with an amazing girl band playing jigs and everybody dancing at what we discovered was a Gaelic festival. It was just what we needed to jolt us from our post wedding apathy, and we spent a fun evening at their open mike night. Our favourite performer was Dave, a 50 something hippy with long curly locks in a pony tail, who played trumpet, flute, clarinet, bass and violin – very badly! I asked him at the bar which was his favourite, and he replied: "oh the drums definitely! But you always find, don't you, that you join bands and they inevitably throw you out when they realise how useless you are. But since I've moved to Beechworth it's not like that. The audience still mocks you but they support you and enjoy watching you grow!"
So it's hats off to Dave – and Beechworth for helping him grow! What a great place.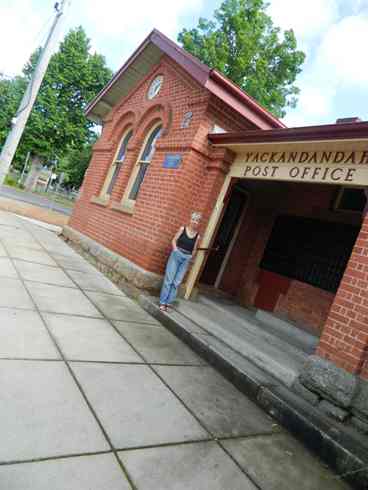 ---