Tom Price: banta round the barbie, frogs in the bogs

Glenoverland
Mon 12 Dec 2011 03:14
22:43.8 S 117:49.3 E
We had a long but fantastic drive today into the Pilbara. It is very red (rusty!) with dots of spiky cream coloured spinifex that make it look like an aboriginal dot painting. The spinifex looks soft but it is very spiky. The town of Tom Price was built by the mining company to service the huge open cast iron ore mine. Believe it or not, it is named after Tom Price, who decided that this is a good place to dig!
Camp kitchens are good places. If we were travelling in a snazzy camper, like 99.9% of the grey nomads, we wouldn't go near them. As it is, we use a camp kitchen wherever there is one, we can use power, a table and chair, cooker, fridge, hot water, and meet really interesting people. The rules are pretty horrendous though and any infringement risks immediate eviction! (see picture: good thing we don't have any friends.)
We sat listening to 3 chaps competing for the best drinking stories, then the barbie broke and they needed our frypan, so we got talking to them. 2 were working for a waste disposal company and the other (Davos) was a tourist from Switzerland, estranged wife and kids at home, he told us he runs his business, travels 6 months a year and has just travelled alone over the Simpson Desert. Brave!
Frogs live in the bogs. I used the loo, flushed, and some shot out from under the rim, others got flushed away!!They are about half an inch long, really pretty, and croak constantly. I cannot think of a nastier place to live, made me think of Gollum.
We drove to the top of Mount Nameless which towers over the town, to look down on the iron ore workings. They gradually cut deep deep terraces in the hills, which are made of iron ore, load it on road trains or the company railway, and ship most of it to China through port Hedland. Sandy has a theory that the chinese have a cunning plan to move the entire continent of Australia to China, bit by bit.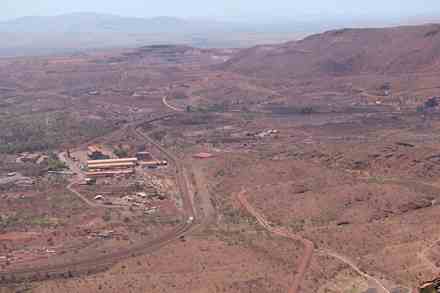 ---