Thoughts from Izmail

Glenoverland
Mon 9 May 2011 15:42
Ismail- The throbbing metropolis of the Ukrainian Wild West.
A town of huge pot holes and little charm. Pot holes out number the charm by a considerable distance. We have observed Ladas disappearing and never being ever seen again. On the âpavementsâ we have seen old ladies, dogs, cats and children all disappear and then sometimes, minutes later, rise phoenix like, sometime not!
In Izmail, there are no golden Maserati's, it aint that sort of town. There are very old Russian buses, that creak and groan as they move and very old, decrepit Ladaâs and Yugoâs that rattle, but nothing flash.
Thereâs an air of something about to happen. Like an English seaside resort, the week before Easter, quiet, boarded up, but--- next week itâll be jumpin. In Izmail itâs never next week!
The shops are very difficult to differentiate from the other buildings. No shop windows, as we know them, you have to peer inside to see what sort of retail establishment you have found. Once inside there is no light but normally an old lady will appear, out of the gloom, then itâs pot luck what, and if, you get served. A joyous retailing experience is rare. The food shops have produce straight from the field, unwashed spuds, carrots, radish, eggs, all fresh and covered in the farm yard muck from which they were picked. Except, that is, for the open market which is great. A huge area selling everything from live duck chicks to car parts, electric motors to pigs trotters, baby wear to rubber boats, roofing materials to braâs!
We canât really work out why Izmail is here. Itâs completely surrounded by Moldova and the Sea. An enclave of Ukraine within Moldova, cut off from the rest of Ukraine by the super efficient and fair minded Customs Department supported by fully armed troops. On the âbusâ (a loose term to describe a Russian van with seats) from Odessa we were stopped twice as we entered and left Moldova. Luckily they didnât ask if we were carrying Dollars, which of course we were because they had just been handed back to us! So weâve done it again folks, smuggled Dollars, itâs becoming a habit.
Anyway. why is Izmail here? Thereâs a bit of a grotty port, thereâs the steppe (undulating land) great for tank warfare and growing stuff if the winter is not too cold or the summer too hot, (52 Celsius last summer) and thereâs a lot of water, but we havenât seen any evidence of a fishing industry. Apparently there is a University because our breakfast girl learnt English there. She majored in waitressing and very good she is too. Besides that, not a thing, except nicking tourists cars and locking them up for 5 weeks.
The town layout is, however, a wonder to behold. The roads may be pot holed, but there are straight. Some go East / West the others go North / South. It is, therefore, easy to get lost. They all look exactly the same, street names are unknown, and in our experience the sun doesnât shine that often so orientation is difficult. It would appear even the local taxi drivers get confused. We got off the âbusâ on Saturday, asked for a ride to the Premier Hotel, showed him a card with the name written in Cyrillic, he asked his mate, there was a long discussion and eventually he drove us around the corner for the princely sum of about Â1.06. Even stranger when you realise that the Premier Hotel is the ONLY hotel in town. One would have thought that somebody else had, at some time, asked for the same destination.
The Premier Hotel should not be confused with the UK hostelry Lenny Henry advertises. This Premier Hotel is different. We have been here for two nights this week. Each night there is a do. First a wedding which went on till 1 am. Last night something which went on to midnight. No problem except the âmusicâ is played at 468,000 decibels with a repeating thump thump thump base line. The building shakes, even the local dogs complain, adding howls to their normal barking. Last night we were honoured to share the dining room with the people having the do. Great! An amp 3 feet from our ears with some bloke and his bird bellowing away like their life depended upon it. As I shouted to Stef, itâs times like this that you regret the passing of laws preventing all right thinking citizens from carrying hand guns.
So there we are, Izmail, jewel of the Wild West, a hick town that puts all other hick towns to shame, a town famous for absolutely nothing, a crap hole of major proportions. With luck weâll be gone tomorrow!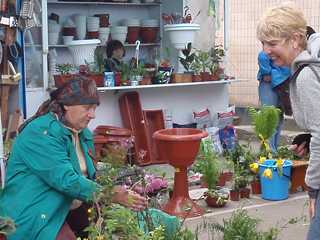 ---