The first 2 days - Great Ocean Road, Port Fairy,, Wed 16/11/11

Glenoverland
Sun 20 Nov 2011 10:47
38:23 S 142:15 E
The Great Ocean Road was really impressive, there was a howling gale blowing and the waves were vast and scary. London Bridge used to have two arches. but one day in 1990 something, an arch collapsed, leaving 2 tourists stranded on what was now an island, alarming! This coastline is known as the shipwreck coast and the waters are littered with wrecks, we could see why.
We camped for 2 nights in a lovely, historic coastal town called Port Fairy. Griffith Island is joined by a causeway and is home to a much photographed lighthouse, a colony of shearwaters which nest in burrows, and swamp wallabies. The island is wild, pristine and unspoilt, and very cold and windy.
The first night was really cold which took us completely by surprise as we had pared down our gear drastically and left all the cold weather stuff with Jen and Ben, so I scoured the charity shops next day for duvets, which did the trick.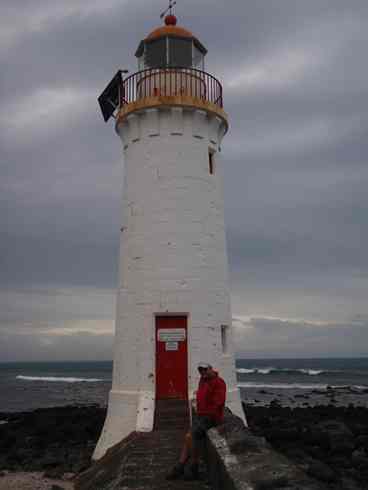 ---