Bit more about Izmail, while we are still here

Glenoverland
Mon 9 May 2011 15:55
Today is the 9th May â Victory Day. I think we ventured out at the wrong time, I am sure there was a Soviet Army parade but we missed it! But we shook hands with a veteran dripping medals this morning, and now thereâs a group of guys, some in suits and some in camouflage gear, getting happily drunk in the bar. The TVâs are, of course, on full blast, showing military parades in Red Square on this joyous day when they swapped Nazi tyrrany for Soviet!
We had a miserable walk today as there was no market, but yesterday the market was hopping. The BEST, BEST thing was the Hari Krishna group on a street corner, 5 chaps playing tablas and 4 ladies in lovely sarees dancing and singing. They were singing what sounded like the Wings version of Hari Krishna, and seemed to be having a great time, all smiling, and it really brought a smile to our faces too. It was the most joyous thing weâve seen since we arrived in Ukraine! (see photo)
Despite what Sandy says, there was one shop window. Jenny, we have found your wedding dress. Look no further, just send us sizes for you & the bridesmaids & weâll pick up the dresses tomorrow.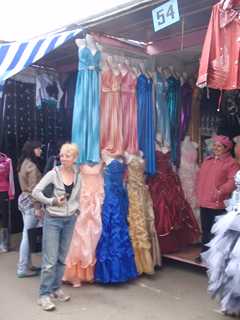 ---