Kununurra Wed 14/12/11

Glenoverland
Mon 19 Dec 2011 05:17
15:46.71S 128:44.8E
We might stay here a bit longer, it's hard work driving every day. We probably won't bush camp for a while, it is so hot and humid, we want a fridge on hand (and a pool if there is one). i
I had a chat with the very pretty girl on the campsite reception. She is from Sydney and came here with her friend, and has met a boyfriend so is staying for a bit. She was showing me places to go, places that will still be open in the wet. She said don't walk in town alone at night, the crime rate goes up in the wet. I asked her what she meant, and she explained, there are aboriginal settlements around the edges of Kununurra, very poor. Late at night we could expect to see comatose parents with their children sitting waiting for them to wake up. School is available to the aboriginal children but not enforced, and most of the parents don't send them, and nobody has a job.
We went for a beer before dinner. The town feels quite rough. All a bit depressing. I met a chap called Mick in the campsite later, he does home maintenance, lives in a caravan here and works 90 hours a week. He told me we are really lucky to be travelling at all at this time of year (ie in the wet), as so many of the roads are still passable, and that tourists never come in the wet.
Some interesting sights, boab trees are like huge bottles, they store water in their trunk. Seeds apparently arrived from baobab trees in Africa by sea thousands of years ago and evolved into what the australians call the boab. Gruesomely, the big hollow ones were used by early settlers as makeshift prisons!! Aboriginal rock art nearby was quite unimpressive to look at, but they have allegedly been carbon dated and are many thousands of years old. The most exciting bit was driving home along a long, corrugated dirt road with a rain storm on the way and waters rising.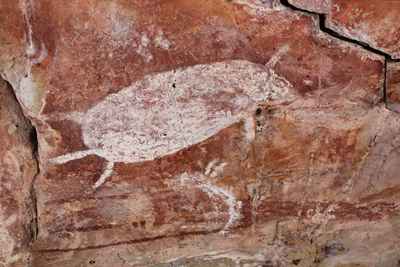 ---