Happy Birthday Sandy! 5/12/11 Crossing the Tropic of Capricorn to celebrate

Glenoverland
Wed 7 Dec 2011 02:03
23:26.4S 113:57.2E
On our last night at Carnarvon we walked along the one mile jetty and the sunset put on the best show in town. We met Douglas from Portsmouth at the end of the jetty, fishing. he cleans our campsite and likes to fish, and talk about it!!! We were treated to some great stories about landing 3m sharks, and about how he's enjoying life till he brings his wife over, who is very flighty and steals stuff. Interesting! Douglas was with a group of men from Tonga who were there to do fruit picking (Carnarvon area supplies 80% of WA's fruit). There are a lot of groups of single men in Carnarvon, presumably itinerant workers.
Today, Sandy's birthday!, we left for Cape Range National Park, Exmouth. We have crossed the tropic of Capricorn, so are now officially in the tropics rather than just a really hot place. The bush is covered with man sized termite mounds , equally spaced (territory?) and looking like dinosaur poo.
Sandy got a new camera for his birthday to replace the one that was stolen in Greece, and he's been getting quite arty with the photos.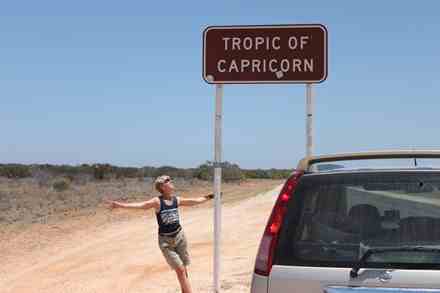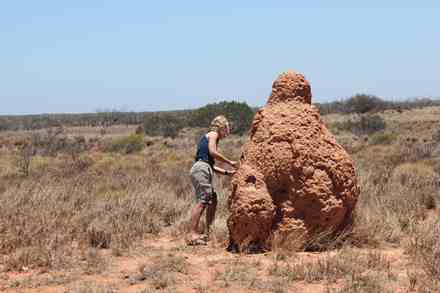 ---