Friday 18/11/11, Port Augusta

Glenoverland
Tue 22 Nov 2011 06:10
32:28.5 S 137:45.7 E
Port Augusta, Woomera
We drove north from Hahndorf through Adelaide to Port Augusta, in the land of peninsulas in South Australia. We have endured 39 deg and a hot wind today, horrible! Port Augusta is an industrial town at the head of Spencer Gulf, very different to the twee town of Hahndorf we left this morning. The town looks poor, there are notices about thieves, and in the pub, girly posters, and posters telling you you can be banned for this and that, and you must wear a shirt and shoes to get served (topless girls are apparently exempt). The shops at 6pm were boarded up and there seems to be a big wealth differential. The campsite is miserable, hot and dusty with lots of permanent vans, next to a noisy goods yard.
But it isn't all bad. We went into town for a beer and watched dolphins in the estuary, and aborigine kids jumping off the pier and swimming, before coming home to cook dinner. We were the only tent campers, then a car arrived towing another one. It was an Australian couple who had towed 3 Japanese kids 350km after their radiator broke. People are very kind. And I have just attempted to paint one of the reddest sunsets I have ever seen. There is a cool change due tonight so it should get more comfortable.
Tomorrow we are planning to go 200km north to Woomera.
Later...
Woomera is a desolate place. It looks abandoned and poor. People still live there, but not many. We spoke to a nice girl in the visitors' centre, who told us they are selling off their stock because BAE are pulling out and have not renewed their contract. The town is full of information about the rocket research but it's more difficult to find info on the Maralinga people and the servicemen who were affected by radiation following the nuclear tests. I would love to google the current situation but we have not had internet for several days. Does anyone know if the cases have been resolved?
The Japanese kids are due to get their car serviced tomorrow. As we said goodbye to them they gave us some teriyaki chicken they had made for us.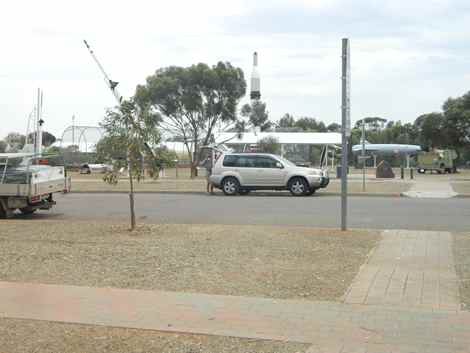 ---